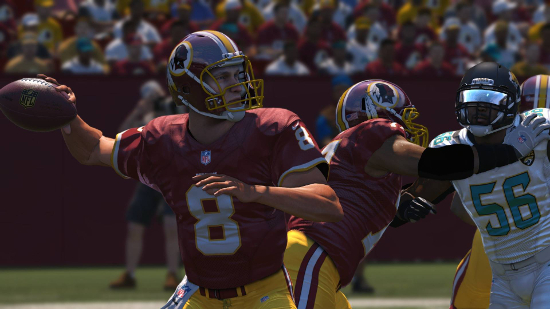 It's been one of the worst weeks in the history of the NFL off-the-field, while on it a number of significant injuries were suffered. With Ray Rice having already been dealt with in Madden NFL 15 (though he still awkwardly pops up in new franchises) attention will turn to Adrian Peterson and Greg Hardy. Both were inactive but their status remains unclear going forward. Unless Peterson were to be suspended by the league today or tomorrow, and any decision that would sit Hardy down for a longer period were to be announced by the Panthers, both will likely remain as normal in this week's update.
Out for the season are Charles Tillman and Walter Thurmond. Those that will miss extended time include Robert Griffin III, Jamaal Charles, Marcedes Lewis, Mark Ingram, Ryan Mathews, Knowshon Moreno and Tavon Austin. DeSean Jackson, A.J. Green, Gerald McCoy and Eric Berry may be questionable heading into week three.
Players that appear likely to rise in the next roster update include Philip Rivers, Kirk Cousins, Demarco Murray, Darren Sproles, Brandon Marshall, Jordy Nelson, Sammy Watkins, Antonio Gates, Owen Daniels, Niles Paul, Larry Donnell, Chandler Jones, Aaron Donald, Mike Daniels, Desmond Trufant, Leon Hall, Kyle Fuller, Jimmy Smith, Tashaun Gipson and George Iloka.
Among those that will probably receive a drop this week are Jake Locker, Colin Kaepernick, Matthew Stafford, Matt Cassel, Chad Henne, Torrey Smith, Logan Mankins, Nate Freese, Justin Tuck, Patrick Robinson, Keenan Lewis, Cortez Allen, Patrick Peterson and Jimmie Ward.