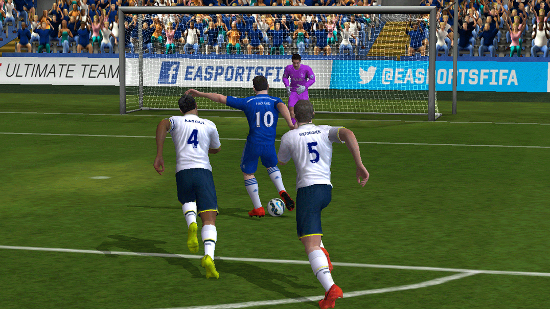 The latest FIFA game for mobile released today and the focus has shifted even more towards the Ultimate Team model. FIFA 15 Ultimate Team is the official title and it can be downloaded here for iOS devices and here for Android devices. The game is free-to-play (of course expecting people to buy card packs) and has done away with many of the traditional modes in favor of concentrating almost solely on Ultimate Team.
Gone this year are Career mode, Penalty Kicks and Manager Mode. The game is now all about Ultimate Team with the exception of "Matches of the Week" while a new "Quick Simulation" mode will allow you to manage a match rather than play it. It's been out for about a week now in some other territories and has been able to collect a lot of high ratings in user-reviews.
REAL WORLD MATCH-UPS
Play your favorite team's next fixture, plus 3 other major match-ups happening around the world – every week!
BUILD YOUR ULTIMATE TEAM
Earn, trade, and collect superstars like Lionel Messi and Eden Hazard to create your own fantasy team. Choose your play style, formation, kits, and more.
PLAY IN QUICK SIMULATION MODE
Put your management skills to the test with new Quick Simulations. Set up your squad, start the match, and watch it unfold. Make smart subs, tactical tweaks, and gauge team effort along the way. Your match results depend entirely on your ability to manage player skills and chemistry – taking authenticity to the next level.
OR TAKE IT TO THE PITCH!
Master your kicks, passes, and shots with classic controls – now with the "through pass" feature – or opt for new "Casual Controls" with fewer buttons. You can even double tap the joystick to enable tactical dribbling for closer control of the ball. Plus, if you have an external controller – don't miss the chance to use it on the pitch for the first time.