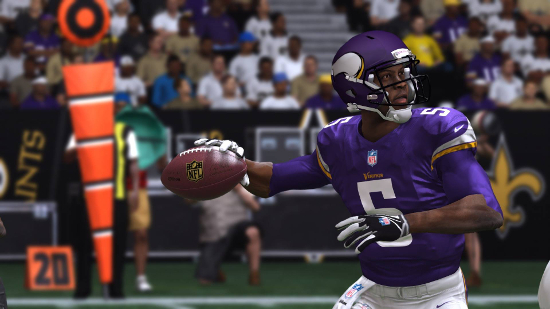 It didn't take long to start seeing some changes at quarterback. Just three weeks into the NFL season and the Jaguars have already turned to Blake Bortles. For some reason it took an injury to Matt Cassel for Teddy Bridgewater to get the nod and the Dolphins seem to be contemplating benching Ryan Tannehill.
Among those with especially strong weeks that could result in Madden NFL 15 ratings boosts are Kirk Cousins, Austin Davis, Rashad Jennings, Devin Hester, Marcus Gilbert, Will Beatty, Kyle Williams, Khalil Mack, Kyle Fuller, Kam Chancellor, Malcolm Jenkins, Brandon Flowers, and Jon Ryan. Names that you might see fall this week include Aaron Rodgers, Ryan Tannehill, Jake Locker, E.J. Manuel, Josh McCown, Bobby Rainey, LeSean McCoy, Montee Ball, Sammy Watkins, Justin Gilbert, and Eric Reed.
Injuries impacted a bunch of players with Danny Woodhead, DeAngelo Hall, Dennis Pitta and Stephen Tulloch all done for the season. Ike Taylor, Ryan Shazier, Matt Cassel, Jason Kelce, Kyle Rudolph, and Jarvis Jones will all be missing significant stretches of time as well.