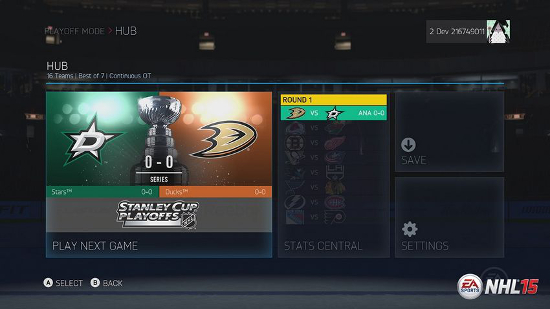 When it was discovered just how much was missing from the Xbox One and PS4 version of NHL 15 EA Sports attempted to soften the blowback by laying out a plan to add in some features in the months ahead. The first of those features have made it in through a patch today.
Playoff Mode
Play an offline bracket tournament with up to 16 teams. Use the teams from the NHL or create your own tournament tree by selecting teams from up to 12 different leagues. Play or simulate each game and track player and team stats throughout the tournament.
Be a Pro – Coach Feedback
After each shift you will get the coach's feedback while you are on the bench. The coach will give you tips on how to stay on top of your game and grade you on your game play. Score high grades on Position, Team Play, and Stats to work yourself up the teams depth chart.
Three Stars
At the end of the game, see the three stars and their stats.
Ultimate Team
♦Updated layouts and improved navigation for HUT menus.
♦New animations for player items.
♦Improved edit lines screen that better identifies players that are injured or require contract extensions.
Sales are down significantly this year and patching in a few of the omitted features won't do much to help that situation. It could however contribute in reestablishing a little bit of trust and confidence in the series to bring some of the people that were lost back next year so it's important to meet or exceed expectations in post-release support. At this point the company has only specifically noted a Draft for Be a GM mode and basic Online Team Play to be coming at some point later this year.