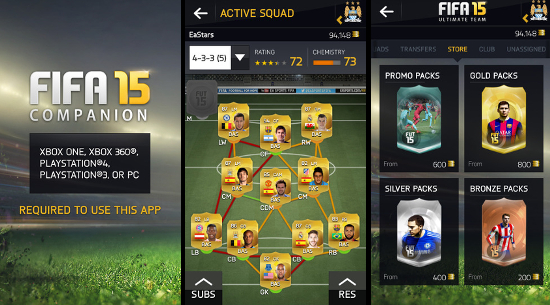 The companion app for FIFA 15 that allows you to manage your Ultimate Team on consoles through your phone or tablet is available now to download. This isn't to be confused with FIFA 15 Ultimate Team – the standalone mobile game that also released this week – but instead offers connected functionality to the console Ultimate Team (PS4/XB1/360/PS3/PC) including the ability to buy and open packs and bid on cards in the Auction House.
♦New Feature: Concept Squads – A powerful squad planning tool
♦Manage your FUT Squads by optimizing Chemistry, Formations, and Players
♦Find and bid on players on the FUT Transfer Market
♦Sell players with the FUT Transfer List
♦Purchase packs from the FUT Store
♦Access your EA SPORTS Football Club Activity, News, and Notifications
The companion app can be downloaded for iOS devices through iTunes, Android devices through Google Play and also Windows Phone.