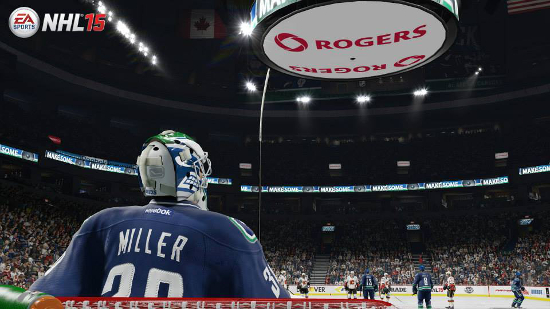 Just over a week ago the first patch for NHL 15 arrived and delivered with it some anticipated content that had been absent at release. Another patch dropped today on Xbox One and PS4 that is more traditional in nature as it affects gameplay, Ultimate Team, and presentation elements. It's not the promised October update that will add basic Online Team Play and the Draft to Be a GM mode – that's expected to be out mid-late this month. 
Gameplay Improvements
♦Players are now faster transitioning into an offensive breakout.
♦Improved offensive AI positioning for all even strength and power play strategies.
♦Teammate and opp AI will be more aggressive stepping up into the play on higher difficulty.
♦Improved defensive AI positioning for non-user controlled players.
♦Corrected issues where goals have counted when the puck did not cross the goal-line.
Presentation Improvements
♦CCM Extreme Flex 2 equipment set added.
♦Updated Jumbotron messages for Winnipeg
♦New crowd model outfits for PHI, EDM, NAS, OTT, ARI, COL, SJ, and VAN.
♦Updates to goalie masks including new designs for Edmonton and LA.
♦Colorado Trainer polo shirt color updated for improved authenticity.
♦Improved crowd distribution in lower bowl for FLA, BUF, PHI, TOR, WIN
♦Team logo spotlight in DAL updated w/current logo.
♦Improved authenticity for STL jumbotron.
♦Updates to Xcel Energy Center's upper bowl inc. addition of Zamborgan and lighthouse.
Hockey Ultimate Team
♦New groups have been added to HUT collections so it's easier to browse by categories.
♦Added the ability to Quick Sell items from Browse Collection.