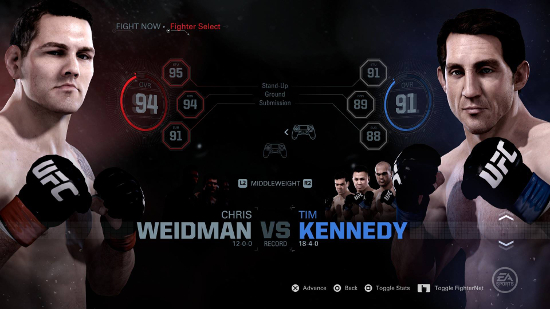 Yesterday general details on the third patch for EA Sports UFC were revealed and teased with a trailer. Today the patch has arrived on both Xbox One and PS4 and with it expanded descriptions of what has changed and been added in the update. Combined with the earlier two the post-release support has dramatically altered the gameplay to an extent that the product might be worth considering now.
It would probably be the right time to pick up UFC whenever a good deal is located – it was recently selling at multiple retailers for $30 but isn't that low right now – given that the sequel isn't expected to be out until sometime in 2016. Or it could make a good Black Friday pickup when it'll be around $20. Continue on for the complete details of the latest patch!
New and Updated Content
♦Added new fighters: Gunnar Nelson (Welterweight), Tim Kennedy (Middleweight)
♦Added Nick Diaz to Middleweight division.
♦Updates to fighter records.
♦Finish The Fight 2.0: Rush down the opponent with a flurry of punches when wobbled.
♦Added new submissive side control transition to side back mount.
♦Added more variety to takedowns based on denial and input times. Perfect takedowns will end up in half guard and late denials and inputs in full guard.
♦Added guillotine takedown reversals. To initiate deny a takedown with R1 and RS down. Must be done with a fighter that has guillotine in full guard.
Gameplay
♦Added animations for fatigued kicks during health events or low stamina.
♦Back slips procedurally hold longer to avoid strikes, side slips improved evasive properties.
♦Strikes will now interrupt kicks if landed early in the kick animation.
♦Increased stamina tax on slips and lunges.
♦Adjusted movesets of a few fighters.
♦Fixed transition denial inputs for certain clinch positions.
♦Fixed issue with clinch steering.
♦Fixed an issue with fighters freezing on the ground.
♦Fixed an issue with fighters clipping on the cage.
♦Tuned priority logic on the ground and in the clinch.
♦Tuned strike combo branching.
♦Tuned clinch transition timings.
♦Tuned takedown denial timings.
♦Tuned parry timing.
♦Tuned referee stand-up timing for more dominant positions.
♦Tuned judge logic.
♦Tuned stamina.
Online
♦Fixed an issue with offline save data triggering Championship presentation online.