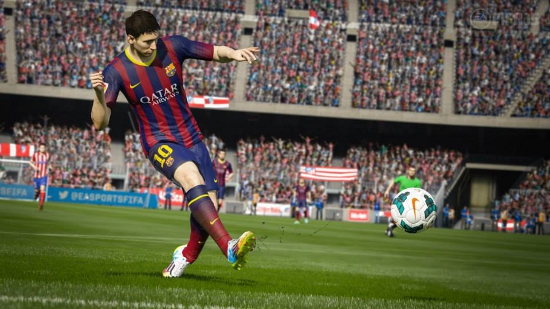 The first patch for FIFA 15 is already available on PC and expected on PS4 and Xbox One in the "near future". Given the quick turnaround time – the game has only been out two weeks – the update will naturally address the more pressing type of issues identified early or application of quick fixes rather than dig into community feedback for improvements in gameplay, presentations, or the various modes. That type of patch would probably be another month or so away based on track record from past years with the series.
♦Added the latency indicator to FIFA 15 Ultimate Team so fans can view health of connection before entering an online match.
♦Improved set-piece cameras in Online Seasons for Guest players.
♦Corrected home crowds in Match Day Live matches.
♦Fixed occurrences where the player would be unable to progress at the end of a FUT match due to the post-match menus not appearing.
♦Fix to hospitality upgrades in Career Mode and Pro Clubs.
♦Addressed exploit where players could infinitely switch kick-takers on set-pieces
♦Fixed occurrence where changes to Subs/Reserves are not brought into Season matches
♦Fixed issue where non-user controlled players run to kick-off circle at match start. (PC Only)
♦Fixed occurrences where players couldn't progress through Virtual Pro creation. (PC only)
[Update] The patch went out on 10/14 for Xbox One and PS4.