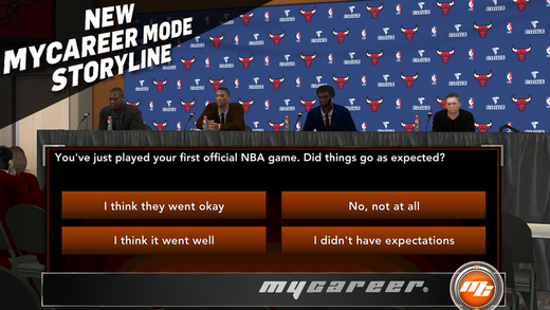 The mobile version of NBA 2K15 released today for iOS devices and Amazon Fire devices. It's unclear when, or even if, it will be brought to Google Play for all other Android devices. There may be some sort of timed exclusivity for Amazon here. Last year though NBA 2K14 did go out several weeks after iOS.
This is not to be confused with the free MyNBA2K15 companion app which offers up the ability to get daily bonus VC, chat while in MyPark, and play a card battle game. NBA 2K15 offers traditional on-court gameplay and a new MyCareer mode.
♦Enjoy Quick Game mode with improved gameplay.
♦Full MyCAREER mode with expanded features and options.
♦New controller support and virtual controller sizing.
♦Significantly improved graphics including updates to arenas, player models, player animations, and more!
2K continues to offer premium mobile apps as opposed to going the free-to-play route. Some will prefer this though user-reviews of the mobile NBA 2K's in recent years have been poor-to-mediocre, which makes shelling out $8 a bit of a risk that wouldn't be required with the other model. NHL 2K which returns to mobile later this fall will also be $8.