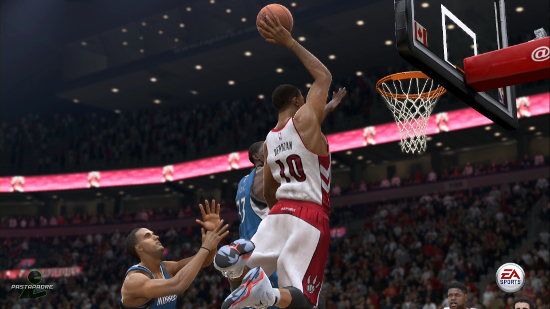 EA Sports isn't treating NBA Live 15 like it's a critical release for the series which desperately needs to establish itself on stable ground and show potential to achieve significant growth in the market within the next few years. In fact they've shown little urgency at all and even have basically admitted it's not a stellar product. No one would have been fooled otherwise but it stands in stark contrast to the way the company promoted previous failed efforts where they instead presented a certain bravado and failed to back it up.
After spending the six hours with Live 15 through EA Access the murky picture has cleared up somewhat. No, it doesn't really deserve credit for being "better than Live 14", but standing on its own it's a decent effort. That comes maybe a year or several years too late but the progress being made is evident and some may even find fun to be had from the product. 
The best way to sum up NBA Live 15 is that it would have been an acceptable Live 14. It has a lot of gameplay-related issues, and doesn't offer much in the way of compelling content, but it has its share of successes also and this time around the problems could potentially be overlooked in favor of just having fun with it. That really wasn't possible with Live 14 which EA probably would have been better off for the long-term not releasing.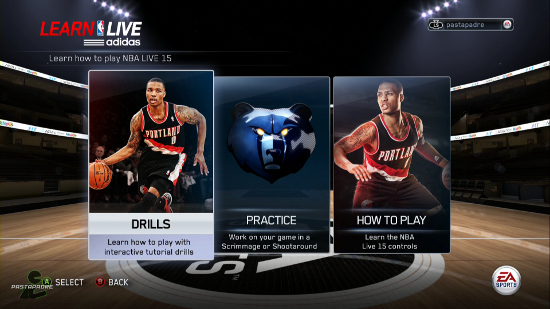 One of the biggest issues with Live 14 was that it lacked any sort of tutorial or practice modes. That has been rectified this time around and EA even forces some of the tutorials on users when they first start up the game. They're effective in teaching simple elements of playing the game and there are a bunch more that aren't included in that initial run-through. Practice and scrimmages are also available.
Gameplay displays much more fluidity to the action though the stiffness of players and animations remain and there are instances of warping and sliding around the court. A lack of off-ball movement is a concern even with LB being used to manually force some movement. The CPU's offense seems to be based on taking a ton of three pointers and maybe getting an offensive board for a put back. However the ball does seem to go through the star players, who stand out fairly well from everyone else, and even the CPU recognizes that on defense as they doubled LeBron James each time he touched the ball in one game I played.
The new shooting meter and release timing feedback seems to be a positive in that you do get an understanding of why a shot may have went in or been off the mark. However, even with a "great release", I haven't found any contested shots being made. It's not even worth attempting a contested shot. It could be due to sample size or it may be a serious issue – it's just not something I could determine in that period of time.
Areas that stood out to me as big positives compared to Live 14 were in rebounding and stealing. It seems like the right guy is pulling down the board even though there are so few rebounding animations that you see the same ones over and over. Steal attempts seem to be handled well with lunges and strips really depending on where the ball is and how it's being protected. Going for a steal in the wrong situation will result in a foul but if you time it right and go at it right there's a chance of success. That can lead into fast breaks another big element of basketball that was completely missing last year but is represented fairly well in Live 15.
ESPN presentation does bring with it a certain undeniable authenticity from the music to the screen wipes and score bug. The commentary duo of Mike Breen and Jeff Van Gundy adds good emotion to exciting moments but in general they're too generic and unspecific in their calls. Bringing back Mark Jackson (he was recorded with them for NBA Elite 11 before he got into coaching) would probably spice things up in future editions. The crowd and atmosphere is very good bringing back some memories of NBA Live 10 which truly excelled in that area.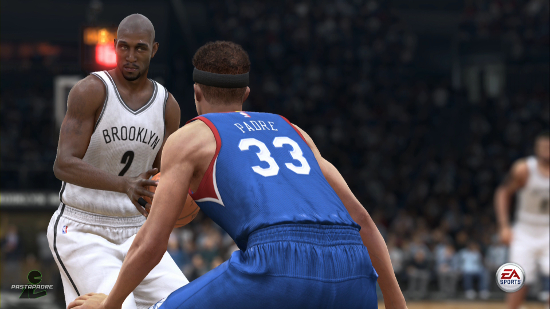 Rising Star mode remains a very basic and bland Career mode. There's no off-the-court angles to the mode so things get boring real quick. Teammate AI seemed better than that found in the competition's Career mode but it still seemed as though the bulk of the scoring relied on me. You have more control over what happens, which could be seen as a positive or a negative, as calling for a pass will always get you the ball and pressing the shoot button will get your teammates to shoot. I put up huge numbers in the "Jordan Take Flight Showcase" and got drafted #3 to the Sixers. It seems the game bumps all the rookies back a pick then so a big chunk of realism in the mode is damaged as almost all rookies end up on the wrong team.
Also included in Live 15 is an Ultimate Team mode which brings in much needed features like an Auction House, and "Big Moments" which I still find uninteresting and anti-climatic upon completion. Dynasty mode is largely unchanged from last year and there's no Online Dynasty or Leagues. It's also important to note that there are no sliders in the game so those who like to tinker with gameplay won't have the ability to do so.
Online play, and server stability, is being touted by EA Sports in an attempt to take advantage of the difficulty the competition is having. However online play was very poor in Live 14 and the limited experiences I've had in Live 15 have been about as bad. Input lag makes timing jump shots nearly impossible – everything comes up with a "late release" and there's really no way to adjust and find the successful release point.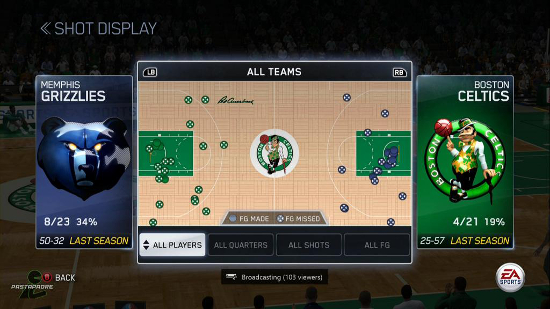 It remains to be seen whether Live 15 will be enough to keep the series from being buried for good. The odds appear to be stacked against it surviving another year. There's now at least something to point towards as evidence that the franchise could get to where it needs to be someday. After four years of failure, and a complete erosion of consumer loyalty coupled with the rise of the competition, that simply may not be enough.
For more on the game make sure to listen to the latest Press Row Podcast where I discuss all my impressions of NBA Live 15!