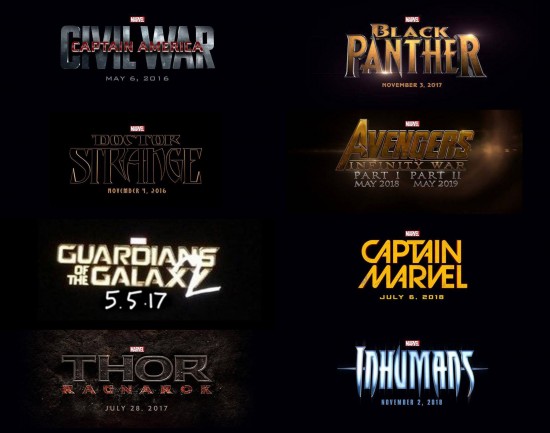 Marvel held a press event today and somehow managed to exceed the hype with a ton of huge announcements in laying out the movie schedule through 2019. It's easily the most ambitious phase yet encompassing nine films that includes a two-part Avengers.
Captain America: Civil War (5/6/16)
Doctor Strange (11/4/16)
Guardians of the Galaxy 2 (5/5/17)
Thor: Ragnarok (7/28/17)
Black Panther (11/3/17)
Avengers: Infinity War – Part I (5/4/18)
Captain Marvel (7/6/18)
Inhumans (11/2/18)
Avengers: Infinity War – Part II (5/3/19)
Though Benedict Cumberbatch is rumored to be signing on for Doctor Strange he was not announced at the event as they are believed to be continuing to work out contract details. Instead the big casting news came with Chadwick Boseman (42, Get on Up) as Black Panther. The character will first appear in Captain America: Civil War before the standalone film in 2017.
There are also the television shows coming up through Netflix with Daredevil, Jessica Jones, Iron Fist, and Luke Cage plus Agents of Shield and Agent Carter on ABC. It's unclear though if any of the characters involved in those shows will make appearances in the films.