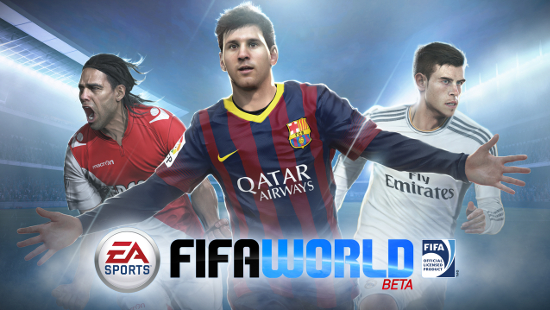 EA Sports has released a significant update for the free-to-play PC game FIFA World. For those interested in trying it out the official website that houses the download is here. FIFA World launched back in May and then at Gamescom a new gameplay engine and promise of more improvements were announced and those things are now here.
Along with EA's mobile games this F2P Ultimate Team model could be paving the way for the same to be offered on consoles in the future. Continue on to check out everything new with the latest update! 
Gameplay Features
♦Attacking Intelligence: Your teammates will now make smarter attacking runs to give you better passing options. In addition, your attacking players have improved offside awareness, they will stutter step or curve their runs to stay onside.
♦Complete Dribbling: We improved our Face Up Dribble to be more authentic and useful, giving you a better feel when taking on your opponent one-on-one. We also added the Precision 2.0 dribble to keep the ball close to your feet when you attack.
♦First Touch Control: A new system eliminates near-perfect control for every player by creating uncertainty when receiving difficult balls. Poor passes are harder to control, enabling defenders to capitalize on errant balls and poor touches. Variables such as defensive pressure, trajectory of the ball, and velocity of the pass all factor into a player's success.
♦Tactical Free Kicks: You can now add a 2nd and 3rd Kick taker to direct free kicks. There are plenty of combinations to score fantastic goals from this type of set piece. On the defensive side we counter-balance this by adding the wall rush, wall creep and the ability to add/subtract players.
♦New Skill Moves and Celebrations: You asked for more and we're giving you more! New skill moves will help you get past defenders with style. Score a goal and you will have new ways to celebrate!
♦Quick Tactics: You can now bring up 4 quick tactics in the game: CB Rush, Team Pressing, Swap Wings and Offside Trap.
♦New Animations: Almost 2000 new gameplay animations have been added, giving you more variation with everything you do in a match.
♦Re-designed Keyboard & Mouse controls: We completely reinvented this control scheme by adding a more sophisticated system that makes even easier for beginners. For experienced players, we added a lot more options to Keyboard & Mouse controls, such as Pass and Go and Fancy Passes.
Other Improvements
♦New look for the User Interface: From the very first menu, FIFA World will look like a whole new game! The game now features a new, modernized look for the U.I.
♦New Match Presentation: Yet another visual improvement makes its way into FIFA World with a whole new match presentation.
♦Updated Match Commentary: Imported from FIFA 15, the match commentary has been updated for all languages, giving matchplay an authentic and up-to-date feel.
♦New Stadiums: The game now features six new stadiums: Villa Park, Boleyn Ground (Upton Park), The KC Stadium, Liberty Stadium, Imtech Arena, and Veltins Arena.