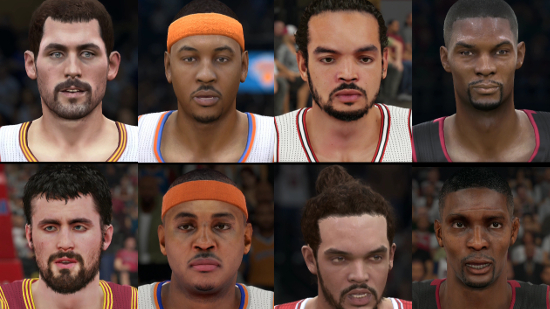 Both 2K Sports and EA Sports have touted their head scanning technology and player likenesses crafted for NBA 2K15 and NBA Live 15. That provided the perfect reasoning to dive into face comparisons and see which side actually delivered the best results.
Over 120K total votes were cast through the 30 different face parings that were presented. Continue on to find out all the numbers and which game ultimately came out on top!
NBA 2K15 won 22 of the 30 face-offs and dominated in the majority of them. There's no question the game delivers the better represented faces across the league. Live 15 did nail a few of the players however and that was recognized by the voters.
NBA 2K15 Winners
Anthony Davis 96%
Tony Parker 95%
John Wall 93%
Kobe Bryant 92%
Rajon Rondo 90%
Derrick Rose 87%
James Harden 80%
Carmelo Anthony 79%
Elfrid Payton 77%
Jabari Parker 76%
Andrew Wiggins 76%
Kevin Garnett 75%
Kevin Durant 73%
Russell Westbrook 72%
Isaiah Thomas 72%
Dirk Nowitzki 70%
DeMar DeRozan 69%
Blake Griffin 68%
Joakim Noah 60%
Kevin Love 59%
Tim Duncan 58%
Marc Gasol 51%
NBA Live 15 Winners
Damian Lillard 84%
Chris Paul 68%
Stephen Curry 65%
Dwyane Wade 64%
LeBron James 62%
Chris Bosh 57%
Ricky Rubio 56%
Dwight Howard 55%
Unfortunately both 2K15 and Live 15 do a poor job with many players whether that's because they were unscanned or just too little time was invested into them. In some cases voters expressed a desire to select a "neither" option. Considering all the players included are high-profile that shouldn't have been true of any of them. Kevin Love, Russell Westbrook, Ricky Rubio, and Dirk Nowitzki were cited the most in this regard.
Average margin of victory for 2K15 was 76% while Live pulled 64%. So in general when 2K15 won it did so in strong fashion, and when it lost it held its own better than Live did. Much of the discrepancy would be attributed to the top six players for 2K15 which flat out embarrassed Live. The only match-up that went into the final hours was with Marc Gasol.
2K15 was the clear winner with rookies. The three in the mix took over three quarters of the votes. Cover athletes were won by their own game, with Damian Lillard the clear standout for Live. If only EA had spent as much time on others as they did on him. Kevin Durant won easily for 2K15. Interestingly though 2K14's cover athlete, LeBron James, was captured by Live.
Are you surprised by any of the outcomes? Overall how did you think the two games stood against each other? Leave any thoughts in the comments!