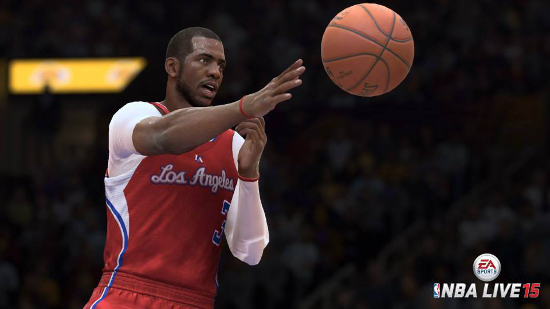 It appears to be inevitable that one day, sooner rather than later, EA Sports will break the Ultimate Team modes out of their respective products and offer them as free-to-play on consoles. They're making hundreds of millions on Ultimate Team with a $60 barrier that limits its reach. How much could they make if everyone with a console had access to play? 
That's a question EA has been evaluating and they've got their answer now thanks to the success on mobile – where they've turned Madden and FIFA into F2P Ultimate Team games – and FIFA World on PC which they are investing heavily in. The company recently credited digital revenue and singled out mobile for their financial success as of late.
What would be the perfect series of theirs to introduce a free-to-play offering for? It's NBA Live which appears unlikely to survive as a traditional product. Many have found Live 15 to be accessible and fairly fun but that doesn't justify shelling out $60 particularly when the competition is superior at the same price. The brand is irreparably damaged. EA can't make digital revenue from Live unless consumers buy it first of course.
While Live 15 gameplay has generated some positive impressions the total package is simply inadequate. The only semi-strong mode Live 15 has is Ultimate Team. Its Franchise and Career modes are about as boring and uninspired as can be and EA has already stated that they view those modes as low priority. It's not as though dropping them out completely would create an uproar. Nobody is buying the game so there's no one to offend – this isn't NHL.
Sales of NBA Live 15 are absolutely dreadful. Well below those of the already atrocious Live 14 numbers, and even farther behind those of NBA Live 10 which produced sales that EA can only dream about now but they felt were insufficient at the time. The NBA Live series is not going to survive as-is. Right now the odds would have to be against there even being an NBA Live 16.
There's just nothing on the horizon for Live that says it'll reach profitability in the next 2-3 years let alone challenge NBA 2K in any capacity. It may not be an ideal scenario, to have Live become a F2P Ultimate Team game, but it might be the only chance it has not to die off completely. With how few sports games are now produced the additional option in any form would certainly remain welcome.