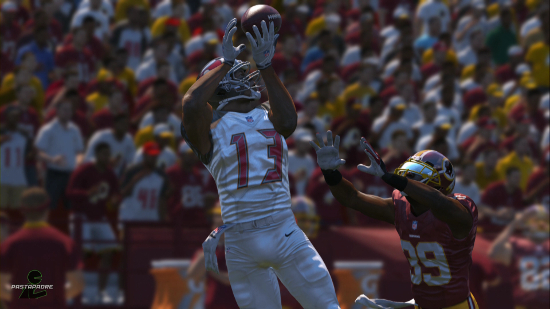 It was a down week for quarterbacks particularly when compared to the astonishing numbers that some had been putting up in games as of late. Few would be justified for boosts in the next Madden NFL 15 roster update while many are in line to receive decreases. Peyton Manning has thrown six picks in the last three games so he'll almost certainly lose the 99 overall rating he was given last month. It'll also be interesting to see if EA removes Adrian Peterson from the game now that he's been officially suspended for at least the remainder of this season.
Those likely to rise include Jonas Gray (who's not even on the roster right now!), Jamaal Charles, Le'Veon Bell, Mike Evans, Chase Coffman, Everson Griffen, Carlos Dunlap, Dan Williams, DeAndre Levy, Chris Borland, Johnathan Joseph, Reshad Jones, and TJ McDonald.
Among those in line to fall are both Peyton and Eli Manning, Kyle Orton, Mark Sanchez, Matt Stafford, Robert Griffin III, Brian Hoyer, Trent Richardson, D'Qwell Jackson, Bradley Fletcher, and Bashaud Breeland.