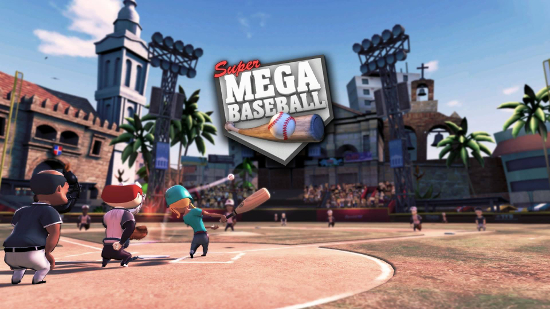 Super Mega Baseball enters the marketplace without the support of a major publisher and with it the normal marketing push and fanfare those games get. It lacks the licensing, rich feature sets, and revenue-driven modes that have become the norm. The sports genre's alternatives, games that acted as bridges to the highly-detailed and increasingly complicated sim offerings, have gone practically extinct in recent years.
Despite all that Super Mega has every right to be considered a legitimate release and in terms of fun factor and value arguably could stand toe-to-toe with those massive sports games. No you aren't going to find the same level of content but in some ways that's not a necessity for the product. It's $20, not $60, and has a completely different directive to achieve. Simply to be fun, accessible to everyone, provide a nostalgic feeling, and to be an enjoyable local multiplayer experience. It succeeds in all those areas. 
The first thing to establish with SMB is that it's not just an "arcade" game. It has the look of one but it doesn't play like one. Gameplay is grounded in reality and falls more on the "sim" side of things. There aren't crazy power-ups or anything of that nature involved here.
The pitching system is being praised by just about everyone who has played SMB. It's really excellent – providing a balance between ease and skill. The hitting is what one would expect (power and contact buttons or use of the analog stick) and I've found more success with contact swings even when using power hitters. They can hit it out either way but strikeout, ground out and line out hard much more often when using power.
The CPU AI is excellent with one exception that has been reported and hopefully will be addressed in an update. Runners on third base often don't run home in situations that they should. Even with two outs they may hold at third on a ground ball. Other than that it's surprising how well the CPU plays. They'll take pitches and work the count, make guessses at the plate, fool you with pitches, give you better pitches to hit in hitters counts, turn double plays, hit the cut-off man – everything that should be there is. Baseball fundamentals were not neglected or replaced by "arcade" elements.
This all shines through even more when the difficulty level is raised. "Ego" is the setting that determines difficulty and ranges from 0-99. Apparently the CPU is practically unbeatable even for the developers once up into the 90s.
One really smart design decision plays into the difficulty (Ego) level and that relates to "Starpoints". This is a social tracking system that rewards you for doing well and allows you to compare to friends. It works too because I found myself being interested in those numbers and playing in a more attentive and focused manner because of it. I really like that you get points for doing something positive like making good contact at the plate or taking balls…even if you don't end up getting a hit smart baseball is being recognized. It also makes for motivation to raise your level – the multiplier for each reward goes up based on the setting.
For a game of this nature one might be surprised by the depth and creativity put into a Season mode. Unfortunately it's not a Franchise mode, with the exception of the player performance boosts and staffing there is no carryover after the one season, but there is impressive stat tracking and the game includes a player editor for names and appearances. There are different season lengths to choose from and you can adjust the difficulty (Ego) level at any point.
The areas of weakness with Super Mega Baseball are obvious and identifiable to judge when considering a purchase (which lately has not been the case with many games). There are a lack of modes with Exhibition and Season the only options. There aren't that many teams and there are only four stadiums. There is no online play and that stings because this would be an excellent head-to-head game. If Share Play on PS4 works well with it that could really enhance its value in its place.
Super Mega Baseball shouldn't just be attractive to those who have lamented the loss of "arcade" games but it also should appeal to any baseball fan and those who want to play a fun sports game that isn't overwhelming or intimidating. Metalhead Software deserves credit for developing such a game and now it's up to consumers to show whether there is a market for it any longer. Lets hope that there is.
Super Mega Baseball is available today for $20 on the PlayStation 4 and PlayStation 3. It can be purchased through the Store on the consoles or via the SEN website: PS4 Version – PS3 Version. With cross-buy once bought for one its owned for both.