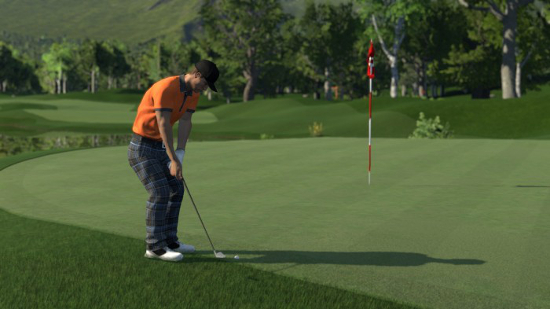 The latest patch for The Golf Club continues the excellent post-release support from HB Studios since arriving digitally for the consoles in August and even before that with the PC version. The patch went out late last night on both Xbox One and PS4 and it most notably includes the highly anticipated Handicap System, a new theme, and two new courses. Remember there are only a few days left to grab it for almost half off on PS4.
♦Handicap System
♦New Theme – Countryside
♦New Game Mode – Stableford (Scoring Method)
♦Multi-plant tool in Greg Norman Course Designer
♦Optimization on all Platforms
♦Expanded Commentary
♦Ability to change Tee Box styles and colours
♦New Official Course – Flin Flon Golf Club
♦New Official Course – Great Tottington Golf Club
♦New Official Tournaments for all handicap levels – some available immediately, most progressively over the holidays.
♦New Official Tours for different handicap levels – to be released over the holiday period.
♦Colourful plants and shrubs added to Greg Norman Course Designer.
♦Bug Fixes (See a TON of them on the official blog)
Here is some more info on what to expect out of the new Handicap system:
HOW DO I GET A HANDICAP IN THE GOLF CLUB?
To get a Handicap you will need to play 5 rounds at Handicap rated courses. The game will look at your scores on these rounds and calculate you a Handicap. After this point every round you have on a Handicap Rated course will adjust your handicap.
HOW DOES A COURSE GET HANDICAP RATED?
In The Golf Club, a course needs 200 plays to become Handicap Rated. Once it is played 200 times the game will work out the course Slope Rating and the Stroke Index for each hole
WHAT DOES MY HANDICAP MEAN?
The Handicap can be from 38 through to an infinite positive number (+8 is Tiger Woods' handicap). Having a handicap between 1 and 38 means that you are allowed an extra shot on certain holes, depending on their Stroke Index. The harder the hole the more shots you'll get. If you have a positive handicap, like Tiger, you'll have less shots on easier holes on the course.
WHAT IS A STROKE INDEX?
Each hole on the course is rated on difficulty. A stroke index of 18 will be the easiest hole with 1 being the hardest.
WHAT HOLES WILL I GET MY SHOTS ON?
In The Golf Club, the scorecard will indicate which holes you get shots taken away from or added to your score. These are indicated with a '.' if you get an extra shot to make par on that hole or a '+' if you need to take less shots to make a par. For example, if you have a '+' symbol beside the par 4 5th hole on the scorecard then the par for you on that hole becomes 3. You will need to score a 3 on that hole to avoid dropping a shot. If you have a '.' instead on the same hole then your par becomes 5.
WHY DOES MY HANDICAP FLUCTUATE BETWEEN COURSES?
On certain courses, easier ones, you're handicap may adjust to make it a little harder. Little Brook Manor is likely to reduce your handicap by a shot or 2, for example.
COURSE RATINGS CALCULATION
After an eligible (18 or 9 holes, >170 Yards/Hole on average) course has reached 200 plays, our system rates it. It uses scoring data from every round played up until the point it is rated, and the course scratch rating and bogey rating are taken using carefully chosen median values. Using these ratings the slope rating is calculated using the USGA formula ((Bogey Rating – Slope Rating) * 5.381). Stroke index is also calculated using scoring data; the holes are split by front and back nine and ordered by highest average score to lowest. We then determine harder half by higher average total score and begin by giving the hardest hole on that half stroke index 1, then the hardest hole on the other half 2, then second hardest hole on the first half 3, etc..
WHAT DOES THIS MEAN FOR THE GOLF CLUB?
As little or as much as you want. You can look at the Net Score or the Total Score column. You can look at the Handicap Adjusted Leaderboards or the Normal Leaderboards. You can play or create tournaments with or without the handicap system being applied. It's up to you really.