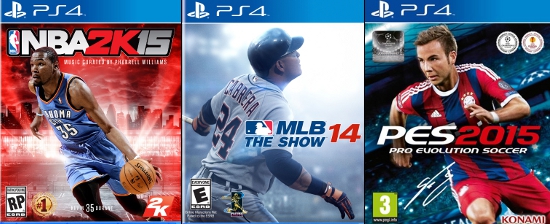 With 2014 coming to a close it's time to begin looking back on the developments that have taken place and award the various efforts in sports gaming. To start will be the first of the Community Awards. You can check out the winners from previous years here.
The categories to look forward to are Community Sports Game of the Year, Best New or Non-Yearly Sports Game, Best Gameplay, Best Online Play, Best Presentation, Best Franchise Mode, Best Career Mode, Best Post-Release Support, Best New Feature, Best Mobile Sports Game, and Most Disappointing Game. Kicking it off today is the award for Best Gameplay.
Winners will be revealed all at once in early January. Continue on to read over the three eligible standout titles in terms of gameplay from the array of sports offerings this year, vote in the poll, and leave any additional thoughts in the comments!
This is a category that has been dominated by the NBA 2K franchise which has a chance to three-peat with NBA 2K15. The recent patch made things even better (though Xbox One owners have yet to receive it). 2K continued to improve on a strength with this iteration.
Meanwhile MLB 14: The Show and Pro Evolution Soccer 2015 represent the challengers. The Show has yet to break through for a win in the category despite being recognized for its exceptional gameplay over the years. PES gets its first ever Community Award nomination knocking FIFA from its usual spot after surpassing it in terms of gameplay this year.