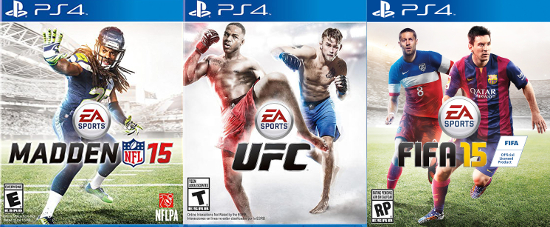 The voting for various categories in the Pastapadre Community Awards continues with Best Online Play opening up today. This is a category that has understandably been dominated by EA Sports games and once again the company will have a winner out of it. Madden is looking for its fourth straight victory with FIFA and UFC representing the challengers. 
Madden NFL 15 continues to offer stable and reliable online play which has helped it earn the award in recent years. Connected Franchise mode, played Online, is the only fully featured and functional Online League experience in all of sports gaming. Standard or Ultimate Team online games generally play without lag and avoid disconnect problems.
Though it offered a thin offline experience the online fights in EA Sports UFC have proven to be stable and often exhilarating. Post-release patches have reduced exploits and balanced gameplay. Online Championships ("Online Seasons" in other EA titles) is the main draw outside of one-off fights. There isn't much else and that's a bit of a letdown after the innovative online feature set offered by EA Sports MMA.
It continues to be remarkable that a series played extensively worldwide could have such consistent online performance. FIFA 15 was as good as ever in that regard, even when 22 people are connected into the same game. No new modes were added but Online Seasons, Team Play, and Ultimate Team provided variety in ways to play.
Previously
♦Best Gameplay
♦Best Franchise Mode
♦Best Career Mode
♦Best Presentation