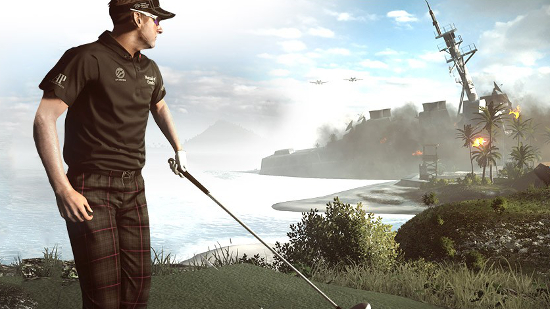 EA Sports hasn't said a word about the upcoming PGA Tour game since it was unveiled at E3 back in June. There's probably a reason for that, and a potential release date shift could play a part in it. 
Both Amazon and Gamestop recently added a product page for the game which makes it look as though it won't be hitting its original target release date. Amazon initially had it for June 2 before changing it to a 2015 placeholder date. Gamestop shows it as June 30, the last Tuesday of that month, which could be a Q1 2016 (April-June) placeholder date or an actual date. Either way it's probably not a coincidence that both retailers slotted it in June. They aren't just making guesses when they list things and if they did it would have been March.
Just two months ago in their latest financial disclosures EA listed PGA Tour as a Q4 2015 release. That would mean the game was due out by the end of March. Maybe something changed since then.
This will be the first golf game from the company since 1998 that won't feature Tiger Woods. Not only is his name gone from the title but he won't even be on the roster. So in response – seemingly as an attempt to draw more casual gamers – EA highlighted "fantasy courses" in the E3 trailer. Naturally people jumped on that and the response was overwhelmingly negative.
Could that reaction have prompted EA to retool the game? It wouldn't be unprecedented. The very thing happened with the reboot of SSX. That game had a poorly received trailer in December 2010 and shifted focus before releasing February 2012.
The only features announced so far for EA Sports PGA Tour are zero load times between holes, courses as "open worlds", and fantasy courses.
One other massive thing to consider is that a move back in the release date would probably signify the loss of Augusta National. It was with Tiger Woods 12 that The Masters debuted. Beginning that year the series jumped out in front of The Masters by releasing in late March. It's hard to imagine a scenario where this PGA Tour game would feature The Masters but come out after it takes place.
The Tiger series did have its release dates disrupted often. The two years prior to the addition of The Masters it was a June release. Before that it was an August release and before that landed in September. Without a big event to capitalize on it has that freedom of movement.
EA's window is really wide open from January through July now. With no UFC this year and no more NCAA Football they have nothing in the way of it moving into summer. If in fact the game is moving there that could have benefits due to extended development time but also mean the loss of one of the most prized features in the history of the PGA Tour series.