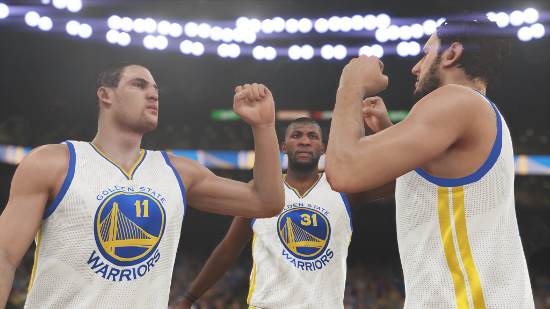 Naturally the two teams that right now are the best in the league, Golden State and Atlanta, have benefited the most through recent roster updates for NBA 2K15. Klay Thompson's record-breaking performance last night has yet to be reflected in the ratings but will in the coming days.
All the player movement through trades and signings, rotations, and injuries have been taken care of in the rosters as well. Net gain over the period was 48 overall points, compared to the last check which was 112 overall points, so that remains a serious concern. Check out all the ratings movement from the last two weeks worth of updates in the spreadsheet here.
Players on the rise include Steph Curry (+1 to 93), John Wall (+2 to 89), Klay Thompson (+2 to 87), Al Horford (+2 to 86), Kemba Walker (+2 to 83), and Kyle Korver (+2 to 82).
Among those that have dropped are Russell Westbrook (-2 to 91), Kyle Lowry (-1 to 89), Joe Johnson (-3 to 80), Nick Young (-2 to 77), and Jose Calderon (-3 to 75).