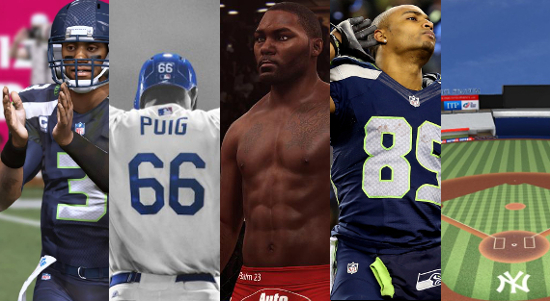 Considering how offended Doug Baldwin gets by being called average, one has to wonder how he'd react to Madden NFL 15's evaluation of the Seahawks wide receivers. They rate out one spot from the bottom of the league, even behind a team like the Chiefs that went a whole season without a receiver catching a single touchdown! Maybe they shouldn't be higher, but there's a number of teams then that are slightly or significantly overrated at the position.
Russell Wilson had the worst game of his career in the NFC Championship game and still led the Seahawks on three consecutive touchdown drives to pull off the miraculous victory. He leads the league in 4th quarter comeback and game-winning drives since 2012, and has sent the team to the Super Bowl with late touchdown passes in two consecutive championship games. So how do you reflect that in Madden? He'll be the next to get the "Clutch" trait even though his general attribute ratings dropped after the game.
The new and likely final patch for EA Sports UFC is available now. It includes four new fighters for the roster. Anthony Johnson (who after his victory last weekend will be next to challenge Jon Jones), Eddie Alvarez, Holly Holm, and Rafael dos Anjos. That brings the total number of fighters added to EA Sports UFC since release to 22.
Nothing new has come out on MLB 15: The Show since the PlayStation Experience event in December, and nothing significant is expected until some point in February. However an early preview takes another look at the previously announced features.
Out of the Park Baseball will release this year with the MLB.com and MiLB licenses featured for the first time. The game is due out in March for PC and likely April for the mobile version that'll be called MLB Manager 2015.
♦Analyzing the standing of Seahawks receivers in Madden
♦Russell Wilson earning the "Clutch" trait in Madden
♦EA Sports UFC update adds four more fighters
♦Early preview of known features for MLB 15: The Show
♦Out of the Park Baseball series gets the MLB license