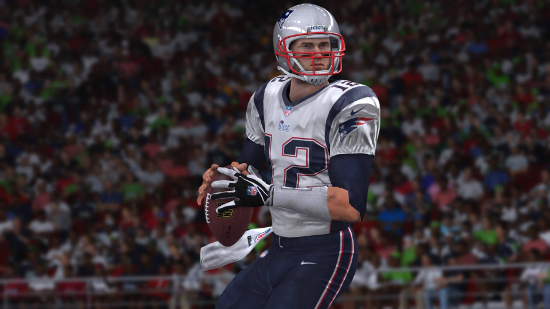 The 21st and final roster update for Madden NFL 15 is available now on all systems. This update follows the completion of the season with the Patriots winning the Super Bowl over the Seahawks in dramatic fashion. Check out all the changes made in the new roster with the spreadsheet here.
It's not only the two Super Bowl teams altered in this update however. Some late changes have been made for various players across the league as well. Tom Brady finishes the year rated 99 along with J.J. Watt and Richard Sherman.
Notables from New England and Seattle on the rise include Brady (+1 to 99), Darrelle Revis (+1 to 98), Michael Bennett (+2 to 96), Kam Chancellor (+1 to 95), Julian Edelman (+2 to 91), Russell Wilson (+2 to 91), Bobby Wagner (+1 to 91), Jamie Collins (+1 to 90), Jeremy Lane (+2 to 80), Malcolm Butler (+7 to 77), and Chris Matthews (+8 to 76). Jermaine Kearse also had his Spectacular Catch rating bumped to 96. On the other end very few players were penalized in ratings due to their Super Bowl performances.