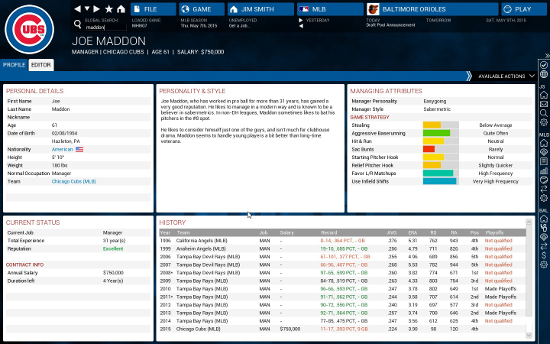 A new developer blog went up today for Out of the Park Baseball 16 that goes over Manager-Only Mode which is one of the new features for the game. It's one of three new ways to play the game along with GM-Only and GM+Manager.
OOTP 16…adds a Manager-Only mode that lets you focus on whipping the players into shape while your GM deals with prima donnas who demand contract extensions, trades a hapless overachiever in his contract year for a couple prospects, and handles all those other things you don't feel like mucking around with.
Out of the Park Baseball will for the first time feature MLB.com and MiLB licensing. There's still an opportunity to get in on the pre-order deal which runs through February 15. Pre-orders placed prior to then will receive the game three days early for $35 instead of the retail $40 and also be entered into a sweepstakes.