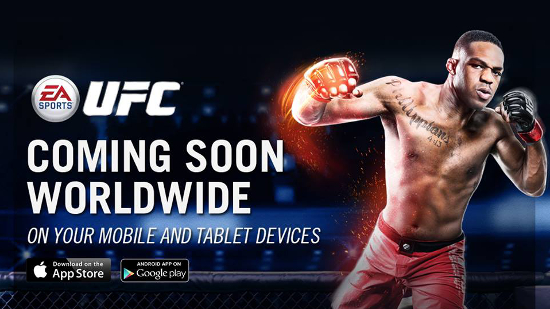 EA Sports announced yesterday that UFC is coming to iOS and Android in the near future. The game is already available in a few regions including Canada, going out early there as a tactic EA has utilized with mobile games in the past to gather feedback and make some updates before rolling them out in the US and other larger territories. 
EA Sports UFC will be free-to-play though the monetization structure has not been completely detailed. It's notable however that it does not adapt an Ultimate Team model (involving buying/earning/collecting fighters) which has proven successful for the company with mobile editions of Madden and FIFA. For those that find MMA games complicated on controllers it'll be interesting to see how actions are handled on phones and tablets. It's also a bad look to have Jon Jones as the promotional face of the game but the company is likely still locked into their contract with him that began with the release of EA UFC on consoles last June.
Free to Fight
Fight on the fly anytime, anywhere. Available for free download on your mobile and tablet devices, EA SPORTS UFC brings the impact of MMA to your fingertips like never before. HD-quality visuals, intuitive touch controls and action-packed gameplay create a unique experience that will keep you pounding out opponents all the way to a UFC title.
Train Your Ultimate Fighter
Choose from a roster of over 70 fighters in four divisions and begin your journey to the top. From Jon Jones' spinning elbow to GSP's Superman punch, each fighter boasts a unique set of special moves that you'll have to unlock and upgrade if you want to take out the UFC's toughest competition.
Win fights, level up and earn currency to put towards new abilities and fighters. Just like the real UFC you can choose to grind through your career, improving with each bout, or invest in your training and watch your abilities skyrocket.
Weight Classes
EA SPORTS UFC has divided it's roster into four weight classes.
Heavyweight: Jon Jones, Cain Velasquez, Anderson Silva, Fabricio Werdum, Alexander Gustaffson, Rashad Evans, Phil Davis, Pat Berry, Junior Dos Santos, Lyoto Machida, Ryan Bader, Mauricio Rua, Dan Henderson, Mark Hunt, Antonio "Big Nog" Nogueria, Glover Texeira, Antonio Silva, Antonio "Little Nog" Nogueira, Chael Sonnen
Middleweight: Chris Weidman, Georges St-Pierre, Vitor Belfort, Carlos Condit, Rory MacDonald, Johny Hendricks, Luke Rockhold, Pascal Krauss, Marin Kampmann, Jake Ellenberger, Francis Carmont, Mark Munoz, Michael Bisping, Rich Franklin, Cung Le, Demian Maia
Lightweight: Jose Aldo, Benson Henderson, Anthony Pettis, Conor McGregor, Khabib Nurmagomedov, Frankie Edgar, Donald Cerrone, Chad Mendes, Cub Swanson, Gilbert Melendez, Ricardo Lamas, Chan Sung Jung, Dustin Poirier, Dennis Siver, Jim Miller, Ross Pearson, T.J. Grant, Gray Maynard, Joe Lauzon
Flyweight: Demetrious Johnson, Renan Barao, John Dodson, Joseph Benavidez, Ian McCall, Michael McDonald, Eddie Wineland, Scott Jorgensen, Darren Uyenoyama, Mike Easton, Timothy Elliott, Brian Bowles, Erik Perez, Urijah Faber, Louis Gaudinot, Brad Pickett, Dominick Cruz
Real-World UFC Events
Connect directly with the UFC's biggest real-world events and matchups. Play through full fight cards for upcoming UFC events and earn exclusive in-game rewards – the more you play, the more rewards you earn! Rise to the top of the leaderboard and watch your payoff grow.
Fight Your Way to Glory
With no lives and no limits to how much you can play, gamers are free to climb the UFC's ranks earning amazing rewards, unlocking new opponents and beating down the competition. Fight your division's best along the way, hone your striking, wrestling and Brazilian Jiu-Jitsu skills, and go toe-to-toe with UFC icons in grueling Main Event matchups.