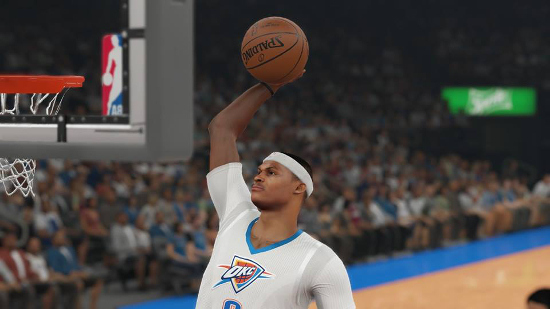 Russell Westbrook has been on an insane run lately, putting together five triple-doubles in the last six games. His run has really moved him up the ranks ratings wise in NBA 2K15. He's now the second highest rated player in the game, only trailing LeBron James by a single point. Westbrook passed up teammate and reigning MVP Kevin Durant in the last week. Check out all the ratings changes in NBA 2K15 since the All-Star break in the spreadsheet here.
Recent roster updates have included not just ratings changes but reflected injuries, adjusted lineups, and changed accessories. Other significant movers on the rise include Stephen Curry (+1 to 94), Chris Paul (+1 to 92), DeAndre Jordan (+2 to 87), Hassan Whiteside (+2 to 81), and Alexis Ajinca who is on a Whiteside-like rise as he's moved up 7 points to 75.
Meanwhile Rajon Rondo, one of the biggest fallers over the course of the season through the All-Star break, has taken another big hit. He's gone down 3 more to 80 after starting the season at 87. LeBron James (-1 to 96), Kevin Durant (-1 to 94), Kyle Lowry (-2 to 86), Dirk Nowitzki (-2 to 86), and a trio of Spurs stars are among those to have fallen in the last three weeks.