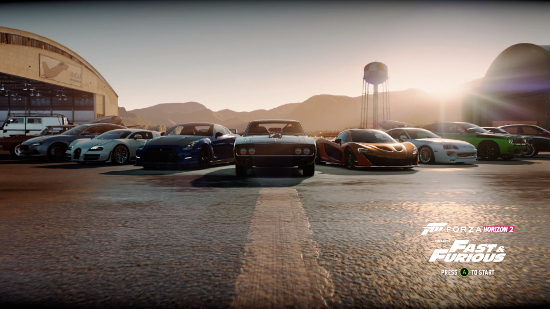 Forza Horizon 2 Presents Fast & Furious went out today on Xbox One and Xbox 360 which is one week ahead of the tie-in film's theatrical release. The free game, an expansion on Forza Horizon 2 that doesn't require owning or even having played it, is available through April 10. After that point it will be sold for $10 – however those who previously downloaded it will still own it without ever having to pay anything. Queue it up here for Xbox One or here for 360.
In Forza Horizon 2 Presents Fast & Furious, players will be recruited by Fast & Furious expert mechanic Tej Parker, voiced by Chris "Ludacris" Bridges, to source cars for the Fast & Furious crew's next big mission. Players will take part in a series of thrilling car challenges set in the idyllic south of France, challenges inspired by both the Fast & Furious films and Forza's legendary gameplay.
Among the vehicles included are "Fast & Furious Editions" of the 1970 Dodge Charger R/T, 2012 Nissan GT-R, 1998 Toyota Supra, 2014 Maserati Ghibli S, 1970 Plymouth Road Runner, 2015 Dodge Charger R/T, 1970 Plymouth Cuda, and 2013 Jeep Wrangler Unlimited.