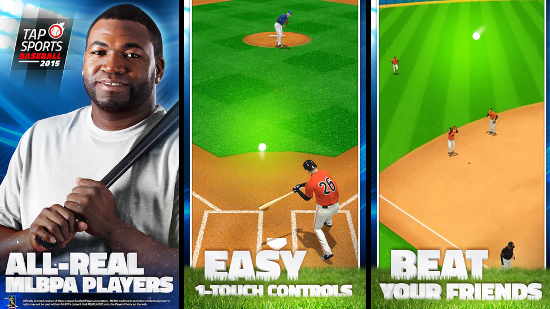 Undoubtedly one of the best sports games for mobile devices last year was Tap Sports Baseball. Not only was it true to the sport on the field but it was designed in such a manner worthy of recognition when compared to the models utilized by many other mobile games. Check out my write-up on it here.
Now a brand new edition of the game has released. The downside is that it requires starting over. That's something console gamers are accustomed to but mobile gamers may be less comfortable with from a free game that they invested time and potentially money in over the last seven months. The original Tap Sports Baseball was supported in impressive fashion with several updates having been made that improved the game and provided additional features.
Now with Tap Sports Baseball 2015 improvements include enhanced graphics, better leagues and tournaments, competitive events, 11 divisions for progression, and "Prime Players" – specially rated to represent when they were in the prime of their career. Download TSB 2015 for iOS devices through iTunes and for Android devices through Google Play.
DRAFT YOUR TEAM FROM REAL PLAYERS
Choose from your real-life favorite major league players, sign them to your team and climb the standings!
EASY ONE-TOUCH CONTROLS
Tap to swing and watch homeruns fly out of the park! Avoid bad pitches and perfect your timing to make contact. Simple controls and short gameplay sessions let you play anywhere, anytime!
MANAGE YOUR TEAM
Choose when to bunt, steal bases, call in pinch hitters or sub in pitchers. Master real game strategies to guide your team to victory.
COMPETE IN TOURNAMENTS AND LEAGUES
Dominate players around the world to climb the standings. Ensure your team has the best lineup when going head-to-head online in live Tournaments and Leagues!
PLAY WITH YOUR FRIENDS
Get social and compete in multiple games simultaneously with players around the world via email, username or even Facebook! Link your account then invite and see your friends in-game.