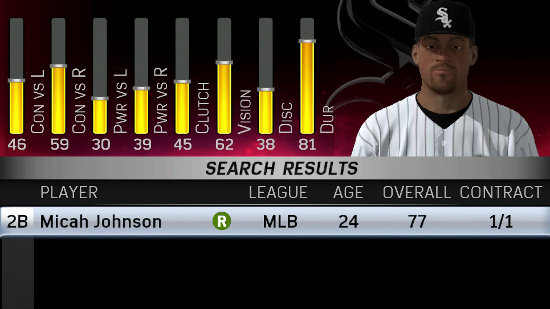 The first in-season roster update for MLB 15: The Show arrived today. It represents the first opportunity for SCEA to add players to the game who made their Major League debuts over the course of the season's opening week.
Among the players added in the update are White Sox 2B Micah Johnson, Pirates SS Jung-ho Kang, Blue Jays 2B Devon Travis, Blue Jays RP Miguel Castro, Mariners RP Tyler Olson, and Reds SP Raisel Iglesias. The update also executes the trade that sent Craig Kimbrel and Melvin Upton to the Padres with the Braves getting Carlos Quentin, Cameron Maybin, and a couple minor leaguers in return.
With Kris Bryant expected to make his first appearance in the majors this week, next Monday's roster update will include him and because of that it'll be one of the most anticipated of the year. For those who'd like a roster with fully named minors to use Operation Sports had their OSFM set completed over the weekend. It can't be used for online games but is available to import within other areas of the game including Franchise.
PLAYERS ADDED THIS WEEK
Bradley_Archie ARI
Cunniff_Brandon ATL
Martin_Cody ATL
McKirahan_Andrew ATL
Garcia_Jason BAL
Johnson_Micah CHW
Iglesias_Raisel CIN
Marquis_Jason CIN
Betancourt_Rafael COL
Nesbitt_Angel DET
Wojciechowski_Asher HOU
Madson_Ryan KAN
Orlando_Paulo KAN
Featherston_Taylor LAA
Blazek_Michael MIL
Graham_JR MIN
Gilmartin_Sean NYM
Canha_Mark OAK
Ladendorf_Tyler OAK
Herrera_Odubel PHI
Kang_Jungho PIT
Liz_Radhames PIT
Olson_Tyler SEA
Andriese_Matt TAM
Beckham_Tim TAM
Dykstra_Allan TAM
DeShieldsJr_Delino TEX
Kela_Keone TEX
Verrett_Logan TEX
Castro_Miguel TOR
Hynes_Colt TOR
Osuna_Roberto TOR
Travis_Devon TOR
TRANSACTION HIGHLIGHTS
RP Kevin Gausman moved from Orioles Starting to Orioles Relief.
SP Ubaldo Jimenez moved from Orioles Relief to Orioles Starting.
SS Everth Cabrera moved from Orioles Bench to Orioles Position.
SS JJ Hardy moved from Orioles Position to Orioles Minors.
CF Rusney Castillo moved from Red Sox Position to Red Sox Minors.
CF Mookie Betts moved from Red Sox Bench to Red Sox Position.
CP Edward Mujica moved from Red Sox Relief to Red Sox Closer.
CP Koji Uehara moved from Red Sox Closer to Red Sox Minors.
CP Brad Boxberger moved from Rays Relief to Rays Closer.
SP Alex Cobb moved from Rays Starting to Rays Minors.
SP Chris Sale moved from White Sox Minors to White Sox Starting.
1B Nick Swisher moved from Indians Position to Indians Minors.
SP Justin Verlander moved from Tigers Starting to Tigers Minors.
CP Joe Nathan moved from Tigers Closer to Tigers Minors.
CP Joakim Soria moved from Tigers Relief to Tigers Closer.
LF Cody Ross moved from D'backs Position to D'backs Minors.
CF Coco Crisp moved from A's Position to A's Minors.
CF Cameron Maybin moved from Padres Minors to Braves Bench.
CP Jason Grilli moved from Braves Relief to Braves Closer.
SP Trevor Cahill moved from D'backs Starting to Braves Starting.
CF Matt den Dekker moved from Mets Minors to Nationals Bench.
3B Anthony Rendon moved from Nationals Position to Nationals Minors.
RP Jerry Blevins moved from Nationals Relief to Mets Relief.
1B Eric Campbell moved from Mets Position to Mets Minors.
RP Phil Coke moved from Free Agent 1 to Cubs Relief.
LF Chris Dominguez moved from Free Agent 1 to Reds Bench.
RP Chad Qualls moved from Astros Closer to Astros Relief.
CP Luke Gregerson moved from Astros Relief to Astros Closer.
3B Matt Dominguez moved from Astros Bench to Astros Minors.
SP Jeff Locke moved from Pirates Minors to Pirates Starting.
CF Gary Brown moved from Giants Minors to Cardinals Minors.
2B Aaron Hill moved from D'backs Position to D'backs Bench.
RP Rex Brothers moved from Rockies Relief to Rockies Minors.
CP Joel Peralta moved from Dodgers Relief to Dodgers Closer.
CP Craig Kimbrel moved from Braves Closer to Padres Closer.
RP Joaquin Benoit moved from Padres Closer to Padres Relief.
CF Melvin Upton Jr. moved from Braves Minors to Padres Minors.