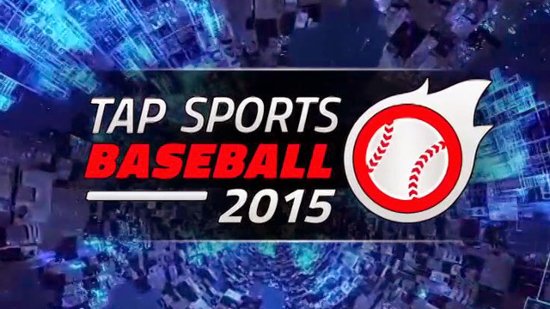 The original Tap Sports Baseball, released last August, was undoubtedly one of the best sports games for mobile devices last year. It was a strong effort at launch with a (somewhat uncommon now) friendly monetization structure that was improved upon through several significant updates as the months wore on. The sequel released last week and it retains everything that made the first so great while introducing some minor improvements on top.
Tap Sports Baseball 2015 is a turn-based game (only at-bats are controlled) that can be played against other users or CPU teams and features the MLBPA license. The goal is to build up a team and advance through stages in "Playoffs" or in other more specific challenges which include Events, Leagues, and Tournaments. Users start with a low-rated squad that can be improved upon through "Draft Picks" or free agent signings. Those cost "Cash" and "Gold" which are earned by playing the game or can be bought.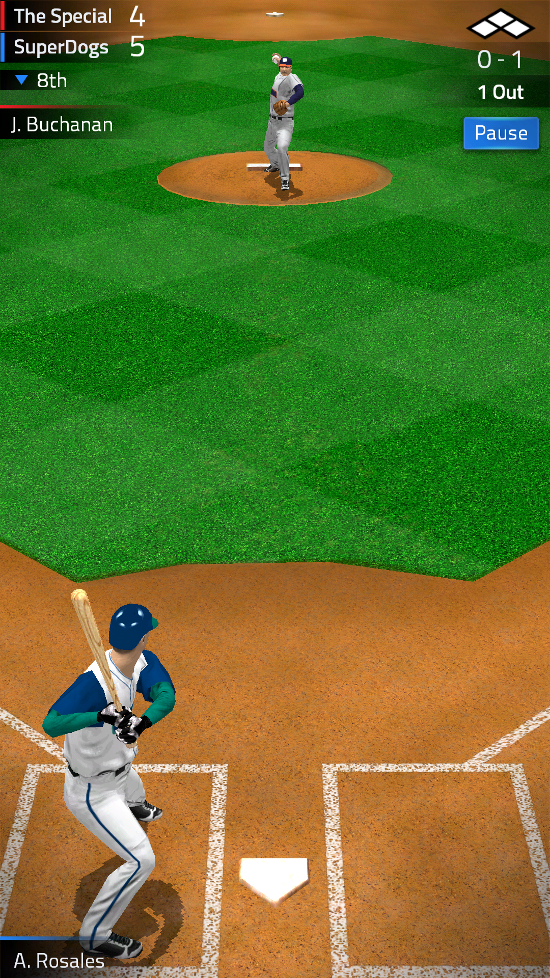 Because it's turn-based that leaves pitching out of the user's hands. However there is still some sense of control over a team's fate as the quality of pitchers on the roster, "Upgrades", and "Gameplan" can all influence the level of success.
The Upgrades relate to various skill displayed on the field starting with a rating of one up to nine. Each Upgrade will improve the team's performance in that aspect of the game which includes various areas of hitting, baserunning, pitching, and defense.
Gameplan is more about strategy. It allows for choosing how often the option for bunting and stealing appears, whether to have a set batting order or one that changes based on facing a righty or lefty pitcher, how frequently infield shifts or bringing the infield in should be applied, and the rate at which to utilize intentional walks.
The actual gameplay is still great and replicates the sport well. It's a simple game but one that can still be skill-based. Having the best players won't guarantee wins. Users tap the screen to swing and get the occasional managerial decision to make. The results are "sim" in nature with stats tracked that are fairly realistic. Great hitters will crush poor pitching so stats may be inflated for a while but they'll even out over time as the challenge grows.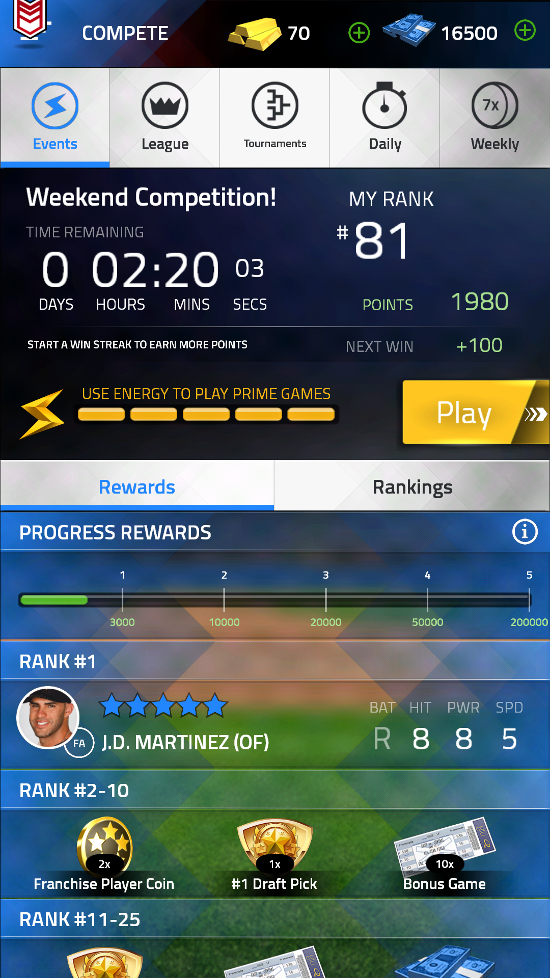 There are only a few things that would be identified as lacking with the game. The biggest being there is no option to pinch-run and no ability to set your batting order. It would be nice to have double-steals as well. Those would be natural additions to the game that hopefully make it in with an update. Also worth noting is that outfielders don't hit the cut-off man and throw frozen ropes from the wall to home plate. That just requires a suspension of disbelief which isn't asking much for a mobile game – however with the fundamentals otherwise nailed for the most part it stands out.
I've encountered a number of freezes, which haven't been that often except for how much I've been playing, and they seem to happen only when an interaction with the screen is requested (confirming the starting pitcher, choosing for/against trying to take another base, selecting a reliever, ect). Those require shutting down and restarting the app but thankfully no progress is lost when it occurs.
Those who played last year's TSB will get a reward upon starting up the 2015 edition. It's another nice gesture that can help those people who invested a lot of time in the first game get a jump start on the new one. Though it's not dramatically different from the original there are some improvements to look for including enhanced graphics, easier difficulty upon starting, revised progression through Playoffs, better Leagues and Tournaments, the live Events, and new achievements.
Tap Sports Baseball is generous with distributing cash and various bonuses and because of that there's no sense of pressure to pay money or restriction on how much can be played without breaking through a pay barrier. Of course spending some money will quicken progression through the game by helping to build up a team faster but it's not required. The key thing is that you're rewarded for playing rather than being penalized for doing so. The more you play, the more cash and gold that is earned, and the more bonuses in the forms of draft picks, "energy bars", "ice wraps", and extra CPU games can be acquired. You'll even get heavily rewarded for getting "achievements" so reaching those goals are one of the best ways to earn currency.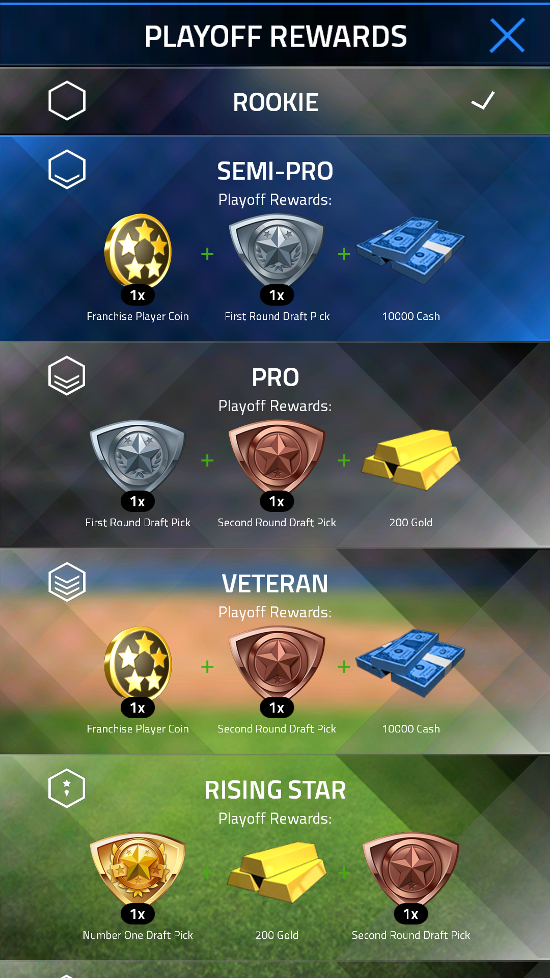 Tap Sports Baseball 2015 is a solid update to an already very well-designed game from last year. It may not be offering much "new" just yet but there's good reason to start up with it whether you're a rookie to the series or a veteran having played the previous edition.
Tap Sports Baseball 2015 is FREE and available for iOS devices through iTunes and for Android devices through Google Play.