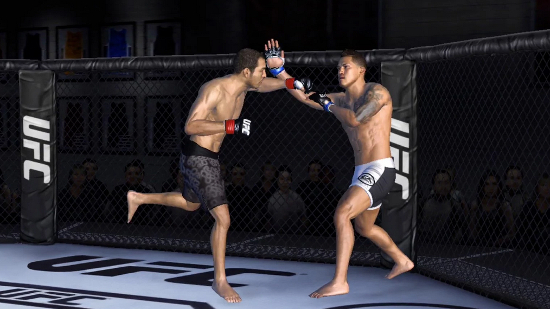 EA Sports UFC has finally made it out for iOS and Android devices. The game was initially offered in a few select regions two months ago and has now reached North America and others. That's been the M.O. for the company on mobile, offering games first almost as a betas in a few places before rolling it out worldwide.
User reviews have been mixed but trended positive based on impressive graphics and fun gameplay. The main complaints seem to relate to the controls, the inability to kick (!), technical issues where saves are deleted, and the monetization structure. 
FEEL THE FIGHT
EA SPORTS UFC brings the intensity of MMA to your fingertips like never before. HD-quality visuals, intuitive touch controls, and action-packed gameplay create a unique combat experience for novice and veteran fight fans alike.
TRAIN YOUR ULTIMATE FIGHTER
Choose from over 70 fighters in four divisions and begin your journey to the top. From Jon Jones' spinning back elbow, to Georges St-Pierre's superman punch, each athlete boasts a unique set of special moves. Win bouts, unlock new opponents, earn coins, and level up abilities – all while building your UFC legacy. Battle through your career and invest in training to watch your abilities skyrocket.
PLAY LIVE EVENTS, EARN EXCLUSIVE REWARDS
Play some of UFC's biggest real-world bouts through in-game Live Events. Play fight cards for upcoming UFC events and earn exclusive in-game rewards. The more you play, the more rewards you earn! Rise to the top of the leaderboard and watch your payoff grow.
FIGHT YOUR WAY TO GLORY
Climb the ranks and hone your striking, wrestling, and submission skills along the way. With no lives or limits to how much you can play, there's always another fight just around the corner. See how you stack up against your division's best and earn in-game rewards for dominating UFC icons in grueling Main Event matchups. Your battle for UFC glory starts now.
EA Sports UFC is free and can be downloaded for iOS devices through iTunes and Android devices through Google Play.