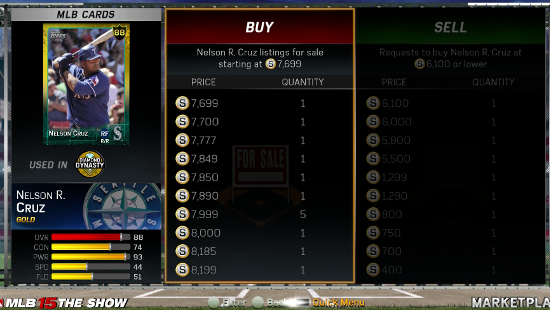 One of the things that allows MLB 15: The Show's Diamond Dynasty to stand out among the card collecting modes of other sports titles was the decision to use "living" cards. Rather than putting out updated versions of players on a regular basis, Diamond Dynasty cards can change week to week depending on how well, or poorly, their real life counterpart is playing.
With the April 27th roster update players received their first attribute boosts. Let's take a look at some of the players who've had significant changes to their overall ratings and see how they compare to their real life stats.
Jake Arrieta 83⇒87 (3-1 with a 2.03 ERA and a 0.938 WHIP)
Arolidis Chapman 89⇒91 (4 saves with 15 Ks in 9 IP and 0 runs allowed)
Nelson Cruz 83⇒88 – (AL leader in HR (9), RBI (20), SLG% .710)
Dee Gordon 83⇒86 (NL leader with 32 hits, while having .390 BA)
Adrian Gonzalez 85⇒90 (NL leader in Runs (17), HR (7), RBI (18), SLG% .803, OPS 1.239)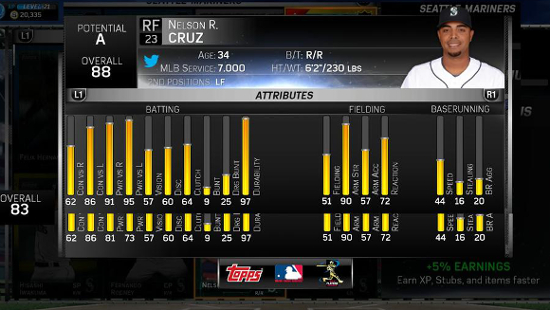 Image via @MLB15TheShow_Tips
But the changes aren't positive for everyone. Here are some players who took a hit to their ratings and saw their value fall with the update:
Hisashi Iwakuma 84⇒79 (0-1 with a 6.61 ERA in 3 starts letting up 20 hits and 13 earned runs)
Ryan Braun 87⇒84 (hitting .230 with 1 extra base hit and 14 Ks in 61 AB)
Evan Gattis 81⇒77 (hitting .156 with 4 extra base hits and 22 Ks in 64 AB)
To see a complete list of players who have had overall rating change check out the discussion on Reddit here.
One of the more interesting changes relates to Adam Jones who moves up from 87 to 89. He is now no longer needed to complete the Orioles collection and unlock Brooks Robinson.
Legend collections require having the cards for all players with overall ratings lower than that team's Legend. These change over time to due trades, call-ups, and players being released. For Baltimore, Brooks Robinson is an 88, so their collection only requires Orioles players rated 87 and below. With Adam Jones now 89 overall he is no longer required for the set.
The Dodgers are a team to watch in the near future. Adrian Gonzalez already got a boost, Zack Grienke stands at 3-0, and Yasiel Puig and Kenley Jansen are currently on the DL but could have upgrades on the way. If they move up to 91 overall, which is the rating for legend Orel Hershiser, they would no longer be required for that collection.
The market value for many of the players who were just upgraded has taken off. Now would be a good time to start investing in some players that could get some healthy boosts in the next few weeks. Here are just a few guys to consider acquiring:
J.D. Martinez – 75 – currently hitting .263 with 5 HRs and 14 RBI for the Tigers.
Currently selling for around 60-80 Stubs
Alex Guerrero – 73 – currently hitting .500 with 5 HRs and 13 RBI for the Dodgers.
Currently selling for around 100-120 Stubs
Trevor Bauer – 81 – 2-0 in 3 starts with a 0.95 ERA and 26 Ks in 19 IP for the Indians.
Currently selling for around 200-250 Stubs
Thanks to T.J. Lauerman for taking a look at the recent changes in Diamond Dynasty. Follow him on Twitter, Twitch, and Youtube for more!