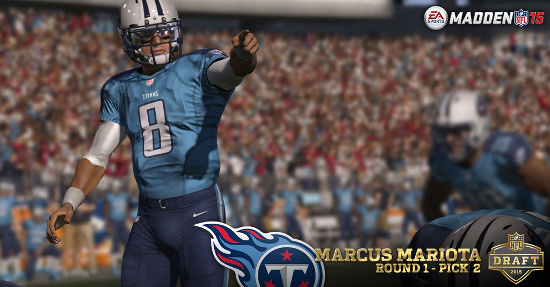 Earlier this week EA Sports released a patch for Madden NFL 15 that added likeness scans for incoming rookies Jameis Winston and Marcus Mariota. That was followed by Winston being added as a free card with inflated ratings for anyone to have in Ultimate Team.
More rookies will be making their Madden debuts in Ultimate Team but it seems those two are the only ones who had their faces scanned. As each draft pick is announced this evening EA is releasing screenshots of them in their new team's jerseys. After Winston and Mariota all the shots have notably obscured faces. Check out images of all the rookies, updated throughout the evening as they go out, in this Facebook album.
These players can be obtained in Ultimate Team by completing NFL Draft Sets in the mode. They'll also be making their way to the Auction House once people have them so that will act as the alternate way to acquire them.