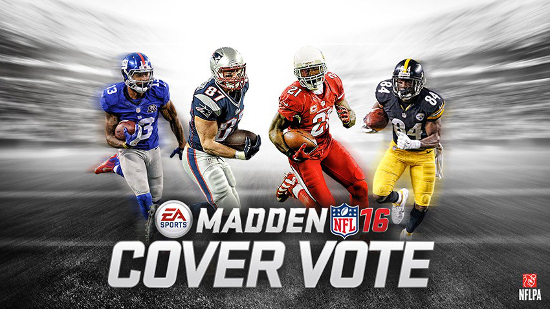 EA Sports is holding a cover vote for Madden NFL 16 but this year the process has been scaled back significantly. Dwindling returns and fan interest in the process called for them to either scrap it altogether or make a big change and they've done just that. 
New England Patriots tight end Rob Gronkowski, New York Giants wide receiver Odell Beckham Jr., Pittsburgh Steelers wide receiver Antonio Brown, and Arizona Cardinals cornerback Patrick Peterson are the four candidates to choose from. There's just one week to cast votes – a stark contrast to past campaigns that would stretch on for over a month.
What this ultimately comes down to is OBJ vs Gronk. Brown has the stats to support his place in the running but he had that last year too and couldn't even get out of the first round of the tournament. It's a head-scratcher that Peterson is even in this field. He had a disappointing season and fell five ratings points from where he began it. He didn't even finish as the highest rated corner on his own team.
For the first round, which will see two names advance to the "Finals", votes can be cast within Madden NFL 15 or the Madden NFL Mobile game for the next week. Within the console versions voting is completed through Ultimate Team and extra ballets are awarded for completing Cover Vote Sets and Solo Challenges. Those on mobile get one vote every day and can get more by playing Live Events. The Finals will revert back to the ESPN website for brief voting with the winner being announced on May 13.
It's no coincidence that the options are pass-catchers and a defensive back. The one bit of info about the game relates to the battle between receivers and defenders for the ball.