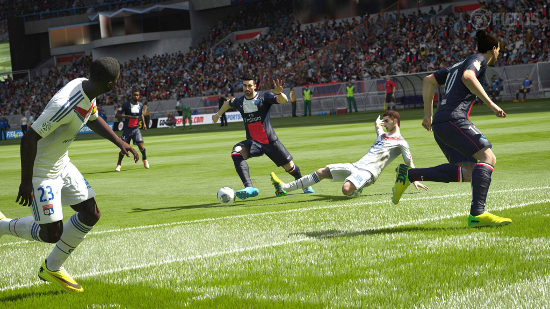 FIFA 15's addition to the EA Access "Vault" today brings the total number of titles offered by the service to 11. Like NHL 15 last month FIFA 15 has been introduced before its "season" has even come to a conclusion. In the case of FIFA we'll just refer to the Premier League in that sense which still has a few weeks to go – though its champion is a foregone conclusion.
The Vault now contains all of 2014's EA Sports games: FIFA 15, NHL 15, Madden NFL 15, NBA Live 15, and EA Sports UFC. All of them have been added since December propelling the subscription service to a place of remarkable value.
The EA Access service is currently exclusive to Xbox One as Sony opted not to allow it for the PS4 citing, of all things, "lack of value" for consumers. It's $30 for a full year or $5 month-to-month. Members get unlimited access to the Vault which contains older EA games: 2013's slate of sports titles, Need for Speed Rivals, PvZ Garden Warfare, Battlefield 4, Peggle 2, EA UFC, NBA Live 15, Madden 15, NHL 15 and FIFA 15. There's 10% savings on all digital purchases and five days of limited (six hours) early play before each EA game releases.
Once again it makes some sense to put these sports games in the EA Access Vault, in a sense almost taking on a free-to-play model, because they're not selling at a significant rate at that point in their cycle anyway. It introduces people to games they may not have played otherwise – and that could get them spending money in Ultimate Team or even could hook them into buying the next edition in the series.