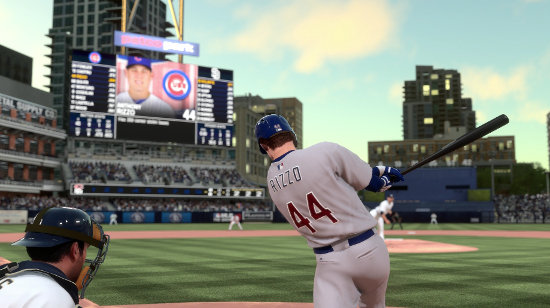 This week's roster update for MLB 15: The Show would likely rank as third most significant of the season. It contains a heralded new rookie and some big ratings moves. 
Starting pitcher Noah Syndergaard made his debut for the New York Mets on May 12 and had his second start yesterday. Through two games he has an ERA of 3.18 and is 1-1. He enters MLB 15: The Show as the 6th highest rated rookie this season.
Syndergaard has been given a 75 Overall Rating with 'A' Potential. He trails only Kris Bryant (81), Yasmany Tomas (79), Addison Russell (79), Micah Johnson (77), and Jung-ho Kang (76) as far as the top rookies introduced in the game this year.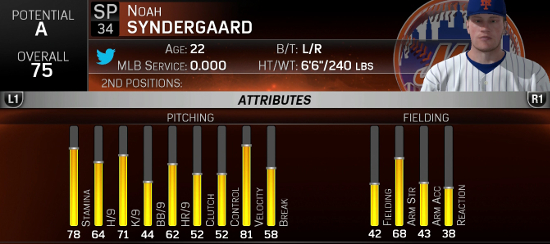 Other New Rookies
Mike Wright, RP, Diamondbacks (59 Overall, B Potential)
Angel Castro, RP, Athletics (63 Overall, D Potential)
Andrew Bellatti, RP, Rays (60 Overall, B Potential)
Ryan Tepera, RP, Blue Jays (59 Overall, B Potential)
Meanwhile this update has some huge ratings moves to reflect on performance this season and especially trajectory the last few weeks. Anthony Rizzo (+5 to 91), Gerrit Cole (+4 to 90), Bryce Harper (+3 to 90), and Michael Pineda (+4 to 85) are among those that have been rewarded with boosts. Those who've taken a hit include Stephen Strasburg (-2 to 88), Yadier Molina (-4 to 86), Jason Werth (-4 to 83), and Chase Utley (-4 to 81).