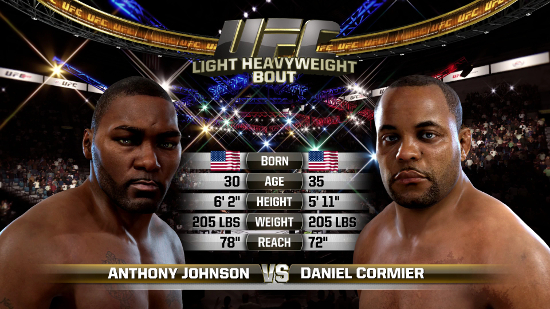 This weekend's main event at UFC 187 will crown the first new UFC light heavyweight champion in nearly four years. With Jon Jones forced to vacate his title, determining who leads the field in the division becomes a little more difficult.
Most pundits still believe that Daniel Cormier is the favorite due to his perceived wrestling superiority. He is not however an overwhelming favorite as Anthony "Rumble" Johnson's devastating power and recent upward momentum must be considered.
What can EA Sports UFC show us about how this fight will go down and ultimately the outcome to anticipate? Let's get these fighters into the cage and find out. 
Round 1
The first minute of the fight starts off with some quick standing exchanges. Both men are giving as good as they are getting. A bit of role reversal takes place as Johnson attempts the first takedown and Cormier throws the first high kick.
The tide first turns in favor of DC as he lands a solid hook at the 3:40 mark that staggers Johnson. This leads to the first action on the ground as Johnson resorts to a weak desperation takedown that Cormier easily sprawls on.
Rumble does recover to his feet fairly swiftly and manages to fight his way back in the round until the 1:25 mark. DC secures his first takedown but again Rumble gets his feet back under him in quick order.
Rumble again seems to be getting the best of the stand up and even throws in a surprising takedown in the last minute.
Round one goes to Anthony Johnson 10-9.
Reality check: The round is not likely to go down this way. Johnson will be mindful of keeping his feet under him and will be looking to feel for his range against Cormier. Though it can be misplaced at times, DC has confidence in his hands and will likely be willing to stand at the outset of the fight.
Round 2
Both fighters come out aggressive but DC is connecting better in this series. Rumble secures another surprising takedown but is quickly swept into mount.
Suddenly at the 4:06 mark DC inexplicably gives up full mount and allows Johnson to return to his feet. This turns out to be huge mistake as he spends the majority of the following two minutes getting teed-off on and gets rocked twice. He takes a nasty head kick at the 2:32 mark. The round ends with Cormier on top after another takedown but too little, too late to steal it.
Round two goes to Anthony Johnson 10-9
Reality Check: This Round was a bit more realistic but with one tremendous flaw. Cormier knows that if he drags his opponent down he has him in very deep water. If this scenario unfolds in the fight it is very likely a finish for DC. The idea that he would give up mount is ludicrous. Johnson starting to take control on the feet in round two is likely as he is the faster and more technical stand up fighter.
Round 3
This round takes place almost totally on the feet. Cormier has a noticeable edge for most of the round landing cleaner shots and with higher frequency. Rumble does land a pretty superman punch at the 0:37 mark that staggers DC and put him on the defensive. Still this is the most dominate round so far for either fighter.
Round three goes to Daniel Cormier 10-9
Reality check: Going into the round this would be an ideal situation for Johnson. He is probably going to be hitting his stride standing if he discovers that DC can't or doesn't want to take him down. Cormier will be working to stay inside of Johnson here and work to put him against the cage or on his back.
Round 4
Brawling is the name of the game in found four. DC is mixing it up well and even connecting with some kicks with his combinations. Cormier is controlling effectively until a slip puts him on his back momentarily. Johnson is unable to do much with it though and absorbs a huge slam at the 2:14 mark.
DC does a little work there before Johnson reverses and returns to fight to their feet. Rumble appears to be fading here. He has allowed the fight to pull even.
Round four goes to Daniel Cormier 10-9
Reality check: Round four plays out similarly to round three. This is a scenario where Rumble is likely to flourish. I would be shocked that to see a late round like this from Cormier. At this point he would be looking to avoid extended standup exchanges and work to control and tire Johnson in an attempt to build towards a decision or ground finish.
Round 5
The first two minutes of the deciding round of this fight consists of more back-and-forth striking with neither fighter really pulling ahead. It takes its first turn and the 4:03 mark as Rumble gets a little too liberal with his kicks. DC catches it and takes him down. Johnson takes some damage but is able to get up in short order. He sneaks in another takedown at the 2:55 mark but quickly regrets it as he again is swept into mount. This time Cormier knows what he has and rains down punishment on Johnson until he secures the knockout.
Reality Check: If Cormier is able to finish Johnson it's most likely to happen on the ground. If Johnson gets mounted he is probably not getting up and especially if that happens late in the fight. A fight that goes into the fifth favors Cormier. A fifth round like this is plausible.
The Final Word
The stats show a fairly even fight. While the high volume of strikes is unrealistic the ratios prove accurate.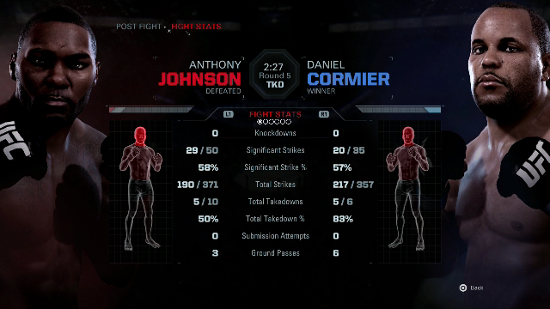 Rumble getting out-struck is unlikely. It's also hard to believe he would attempt ten takedowns or be successful on five over the five rounds. The most realistic outcome in this simulation would have occurred if Cormier TKO'd Johnson in round two after securing full mount.
So is this an accurate simulation considering flow of the fight and outcome?
Our determination is NO.
Anthony Johnson takes this fight via TKO midway in round three. We find that Cormier is unable to use his wrestling prowess as Johnson uses lateral movement to avoid standing in front of him. Johnson gets comfortable in round two and begins to put DC on his heels enough to keep them separated. After inflicting some damage in the third round Rumble catches Cormier with a straight right hand and follows him to the mat for the finish.