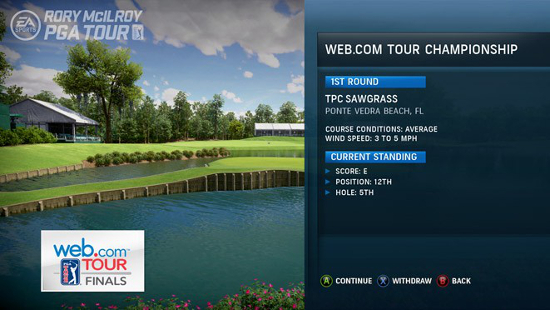 EA Sports has announced a new "Tour Pro" Career Mode for Rory McIlroy PGA Tour. As with the other features revealed for the game so far, there appears to be a concerted effort made to appeal to both the experienced simulation-minded players and those who desire an easier or more arcade-like experience and one in which requires less of an investment of time. 
START YOUR CAREER
Tour Pro Mode begins in the last tournament on the Web.com Tour. Place high enough at TPC Sawgrass to graduate to the PGA TOUR and embark on a 15-year career.
Before hitting the course, players can customize their golfer's appearance and select a bio. This creates a little backstory about your created player – as either a Prodigy, Collegiate or Instructor.
New this year is a feature called Quick Rounds, which allows players to complete a four-round tournament in the same amount of time as one 18-hole round.
Players can progress deeper in Career in half the time, without compromising Skill Level or XP.
EARNING XP
Players earn XP throughout Tour Pro Mode, which increases golfer level and unlocks various gear, equipment, attribute upgrades and attribute bonuses.
Earn XP by finishing holes, making birdies, hitting shots using draw/fade, hitting greens and fairways in regulation, close approaches, etc.
ATTRIBUTE BONUSES
Attribute Bonuses are a new way to set your golfer's strengths and weaknesses. Players select one Attribute Bonus (Balanced, Power, Precision, Finesse) and have ability to unlock space for up to three more. With everything unlocked, there are 1000s of combinations to choose from.
Skills can be set up to match a play style, or edited to give players the best chance on a particular course.
Distance bonuses may come in handy on a long, wide-open course, while accuracy and shot-shaping abilities will be beneficial on a tighter, more technical track.
CAREER PROGRESS
Shows current standings or skill level, and what unlockables are available at the next level.
TOUR PRO HUB
Once you're finished here, you are taken to the Tour Pro hub, which is the hub for all things Tour Pro Mode. Players can set up equipment, change outfits, edit skills and more.
UPCOMING EVENTS
See what's coming up next and head out to the course.
EQUIPMENT
Easily find and equip newly unlocked equipment, or optimize everything with the press of a button.
IN THE BAG
Fully customize your clubs and bag. Players now have a completely mixed bag of goodies, and are not restricted by club types. Want three drivers in the bag? Go for it. Fully customize your club head, shaft and grip.
OUTFITS
For the first time, players can set up different outfits to automatically rotate each round – Thursday through Sunday.
APPAREL
The most apparel ever, featuring more than 600 options to choose from.
ROUND TYPES
Choose from a traditional 18-hole experience, or focus on the most important holes with the all-new Quick Rounds feature.
CAREER HIGHLIGHTS
Highlights accomplishments throughout the mode, ranging from simply finishing tournaments to setting records and signing with sponsors.