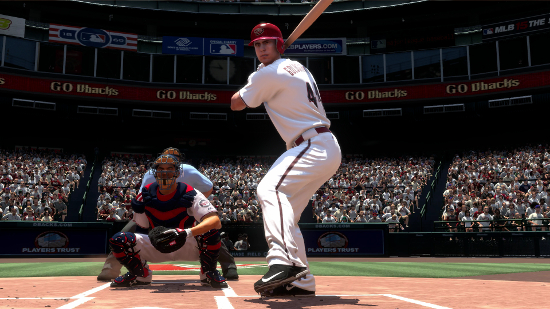 Today's roster update for MLB 15: The Show was expected to be an especially intriguing one for a couple reasons. The first was the addition of heralded Texas Rangers prospect Joey Gallo. The second related to Oakland A's "switch-pitcher" Pat Venditte. 
As to the latter, the ambidextrous Venditte made his major league debut on June 5, but he's nowhere to be found in the new roster. The Show does not have a system in place to handle a "switch-pitcher" – he was likely to be classified as typical lefty – but the delay in putting him in could mean SCEA is looking at doing something unique for him and needed more time to implement that.
Joey Gallo however has been introduced into The Show and he's rated 69 Overall with 'A' potential. Gallo made a splash in his debut going 3-4 with a home run and 4 RBIs and followed that up with a second HR in game two. He's batting .292 after going 3-16 since and has struck out 13 times in 24 at-bats.
The big winner this week in terms of ratings is Paul Goldschmidt. The Diamondbacks 1B has surged 4 points to 97 overall. On the season he's batting .343 with 16 HRs and 47 RBIs. Others rising include Corey Kluber (+2 to 92), Jeurys Familia (+5 to 85), Joc Pederson (+2 to 83), and Alex Guerrero (+6 to 81). Headed down are Adrian Beltre (-4 to 89), Alexei Ramirez (-2 to 81), and Aramis Ramirez (-3 to 80).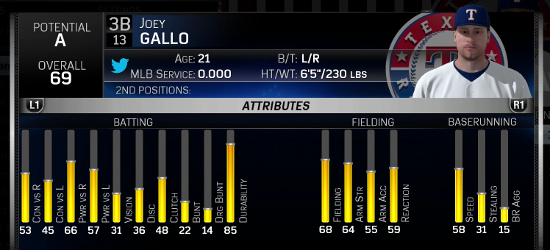 New Rookies
Joey Gallo, 3B, Rangers (69 Overall, A Potential)
Chi Chi Gonzalez, SP, Rangers (69 Overall, A Potential)
Hanser Alberto, 2B, Rangers (68 Overall, B Potential)
Mike Montgomery, SP, Mariners (67 Overall, B Potential)
Mikie Mahtook, OF, Rays (63 Overall, B Potential)
Kendry Flores, RP, Marlins (62 Overall, B Potential)
Josh Ravin, RP, Dodgers (61 Overall, B Potential)
Ramon Flores, OF, Yankees (60 Overall, B Potential)
Edgar Ibarra, RP, Angels (54 Overall, B Potential)