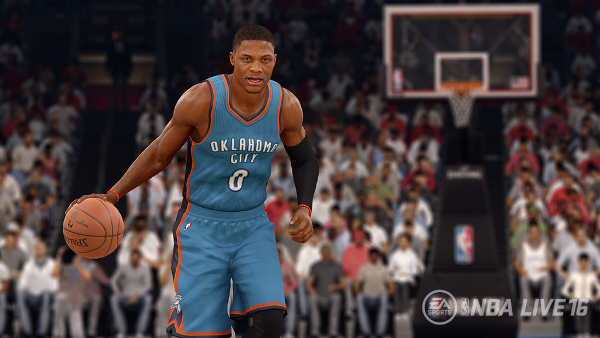 EA Sports today made NBA Live 16 official by announcing Russell Westbrook as the cover athlete. Considering how poor sales have been for Live 14 and Live 15 there has been legitimate concern that the series would be cancelled. The former was a disaster and the latter provided some stability but failed to do anything more. The series is getting at least one more go at it and it'll need to show considerable growth to justify it continuing beyond this year. 
Much more about the game is expected out of E3 but notable in a list of vague features is the following, which was originally accompanied by an image of an adidas branded gym, but interestingly that has since been replaced on the game's website.
DISCOVER HOW TO RISE TOGETHER THIS SUMMER: A new way to experience NBA LIVE…
There are a couple possibilities here and the most likely would be the return of adidas Live Run mode which was very popular in NBA Live 10. The mode was an "evolution of Online Team Play" and allowed for up to 10 users online, controlling real NBA players, in an adidas gym, with games played to 21. Here's a video I recorded of a Live Run game back in 2009.
They could also be looking at doing something along the lines of EA Sports Hockey League (EASHL) in the NHL series. This would be especially plausible considering NBA Elite 11 was going to have EA Sports Basketball Association (EASBA). While the NBA 2K series has gone away from "Crew" mode EA has missed the opportunity to capitalize on it, at least until now, and that's something they could do with EASBA.
Other features currently listed:
LIVE IS ALL ABOUT YOU
The ultimate form of self-expression where everything you do matters – both on and off the court.
LIVEMOTION
Free your game with our physics-based player movement system – giving you unparalleled control and best-in-class animation.
LIVE CONNECTED
The freshest way to play ball. Ultimate Team, Dynasty, Big Moment Challenges and more are back and better than ever.
No release date was announced today however. That's curious because of how 2K Sports moved NBA 2K16 into late September, when traditionally basketball games could not come out prior to the first Tuesday in October. Live might be better off having some distance from that game anyway, and releasing at the end of October makes some sense to take advantage of the chance to coincide with the start of the NBA season.