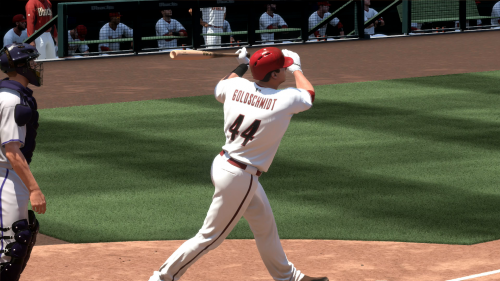 With the June 8th roster update for MLB 15: The Show a 'Diamond' player received an update to their Overall Rating for the first time this season. Diamondbacks' 1B Paul Goldschmidt jumped from a 94 to a 97 thanks to his stellar start which finds him hitting .343 with 16 homers and 47 RBI. On the flip side, Rangers' 3B Adrian Beltre dropped out of the Diamond tier after falling from 93 to 89 due to an average of only .257 and a trip to the DL.
With Beltre going down, the Rangers called up Joey Gallo (69) to play 3B. His card is now required in the Rangers Collections to get legend Nolan Ryan. Also joining Gallo in the Rangers Collection with this update are rookies Chi Chi Gonzalez (69) and Hanser Alberto (68). Due to these new cards having just come out, the availability of them currently is very low. This is going to make the Rangers Collection difficult to complete for the next few days or weeks, which is great for me, because it's the last team collection I have left to do.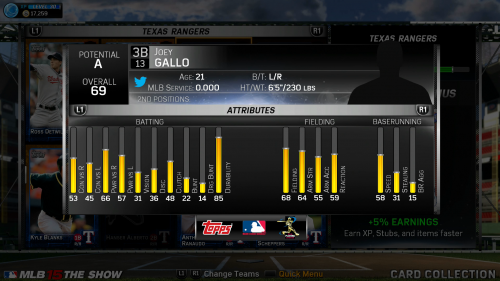 Staying on the topic of rookies, late last week two high profile prospects debuted and should be making their way into MLB 15 with next week's update. The Astros called up the 2012 1st overall pick, Carlos Correa, and the A's called up relief pitcher Pat Venditte. For baseball fans Correa is the big call up – he's the #3 prospect in baseball according to MLB.com and BaseballProspectus.com's Pre-2015 ratings. For those who are more concerned with the video game, Venditte is much more interesting.
If you don't already know, Pat Venditte is a "switch-pitcher". I'm going to let you absorb that for a second. Unlike switch-hitters who bat opposite the pitcher's arm, Pat Venditte pitches left-handed against left-handed batters, and right-handed against right-handed batters. Since he's the only pitcher in the last 20 years to do this, it's doubtful that Sony San Diego has put in the effort to fully represent him in the game. We'll see what they do in next week's roster update, but my assumption is that he'll just be a left-handed reliever.
While it may be unlikely that Sony San Diego will do anything special for Venditte, they do have a history of making a customized change for individual players. Specifically, in MLB 07: The Show, a player could edit Daisuke Matsuzaka and change one of his pitches to the Gyroball, which no one else in the game could use.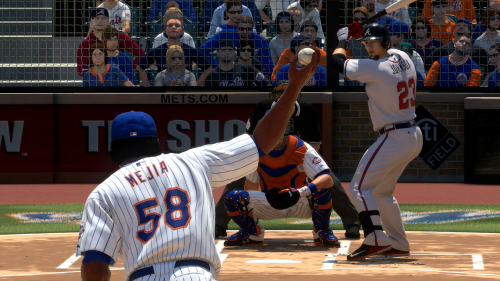 Three Moving Up
Paul Goldschmidt 94⇒97 NL Leader in Runs (44), RBI (47), OBP (.468) and Total Bases (132)
Jeurys Familia 80⇒85 NL Leader in Games Finished (24) with a 1.30 ERA and 17 Saves
Mike Pelfrey 67⇒74 5-2 with the 4th best ERA in the AL at 2.28
Three Moving Down
Adrian Beltre 93⇒89 Currently hitting 67 points lower in 2015 (.257) than in 2014 (.324)
Ryan Zimmerman 82⇒80 Weighs 220, is hitting .217
Dillon Gee 78⇒72 0-3 with a 4.46 ERA and has a Hits Per 9 of 10.7
Three To Watch
A.J. Pollock (ARZ) – 83 – While Pollock received a 2 point upgrade in this update, he is currently tied for 4th in the NL with a 3.2 WAR and is hitting .322 with 40 Runs Scored. If he keeps getting on base in front of Goldschmidt, he'll keep getting driven in. 'Gold' is in Pollock's future. Currently selling for 350 to 550 Stubs.
Kendrys Morales (KC) – 80 – Kendrys is having a nice resurgence after last year's contract debacle. He's currently tied for the AL lead in Doubles (18) and is tied for 4th in the AL in RBIs (39). Currently selling for 50 to 125 Stubs.
Carlos Martinez (STL)  – 79 – Martinez is currently 6-2 with a 2.94 ERA, is 7th in the NL in Strikeouts per 9 with 10.025, and 8th in the NL in Hits Allowed per 9 with 7.084. The one downside to his performance this season is that he's also 2nd in the NL with 31 Walks. Currently selling for 250 to 400 Stubs.
Thanks to T.J. Lauerman for taking a look at the recent changes in Diamond Dynasty. Follow him on Twitter, Twitch, and Youtube for more!