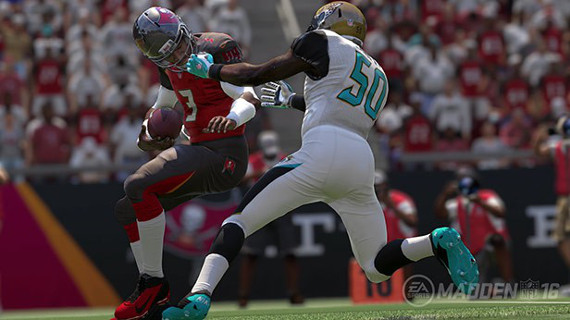 Ever since EA nonchalantly announced that they had extended their deal with the NFL early last year question remained regarding exclusivity. The subject was dodged at every turn, leaving many to wonder if the EA Sports deal with the league had changed in that regard. Rumors even arose suggesting other companies were going in on the NFL and working on games that would utilize the licensing.
That can now be put to rest as far as the consoles go. Today in an interview with Geoff Keighley, Moore responded an inquiry on the subject by confirming that both the NFL, and NFLPA, licenses remain exclusive to EA. When questioned specifically about a potential Joe Montana Football game, he said he had no knowledge of anything going on with that, but if it were to be on consoles it would be an unlicensed game.
The current deals likely run through 2017, based on previous extension lengths. And while some have surmised that exclusivity may no longer be necessary, or financially responsible for the company, the smart money remains on that relationship continuing well beyond the end of the current deal, regardless of the desire from consumers for competition.