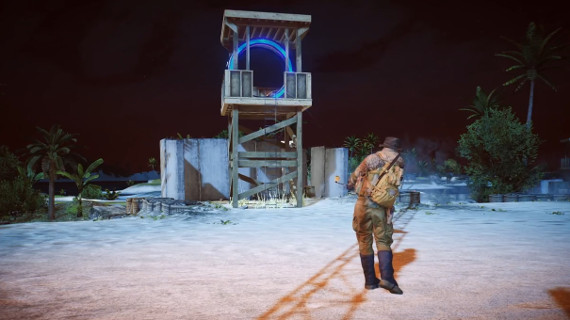 EA Sports today revealed a mode that will debut with next month's Rory McIlroy PGA Tour. The Night Club Challenge will feature various over-the-top challenges "such as hitting targets, landing in buckets, exploding objects, rolling through gates, knocking down barrels, and steering through rings". A variety of boosts differentiate the mode even further from traditional golf.
Night Club Challenge looks like it could be fun but as with last year's initial reveal of the game that focused on "fantasy courses", which didn't go over well to say the least, this will probably elicit some groans from those interested in golf game directed at purists of the sport. McIlroy has to make up for the loss of Tiger Woods though, and going after the casuals with this, fantasy courses, and things like the different gameplay styles seems to be the strategy. It may have cost them Augusta in the process however.
Please enable Javascript to watch this video
Summary
Night Club begins by helping golfers tune their skills with challenges such as severe uphill/downhill shots, accuracy off the tee using power boost, long putts to a shrinking cup, and pitch shots into breakable plates. But don't blink, as challenges will get progressively harder.
Players earn points for everything in the Night Club, including driving distance, accuracy, landing on targets, breaking objects, use of ballspin and more.
Challenges are set up across three very distinctive courses: Wolf Creek, Paracel Storm, and Coyote Falls. Each course has its own map view where you will navigate through the challenges. The journey begins at Wolf Creek.
Each hole on the course has unique challenges, with the last being a Stroke Play type challenge. But this is not your traditional style of hitting the ball down the fairway. Not only do you need to sink the ball into the hole, but you must do so while being tested with moving objects such as rings, bounce pads, sticky pads, speed pads, checkpoints, and much more.
Players must use strategy to earn all three stars, including picking the right player and utilizing the right boosts. New boosts and new fantasy golfers can be unlocked as players progress through the Night Club.
BOOSTS
Players can unlock a total of nine different boosts, which can be used to modify the ball's flight to avoid obstacles and land on targets. Boosts are where the real strategy comes into play. Players can equip up to a maximum of three boosts, so be sure to mix and match to learn which ones work best in a particular challenge.
♦Rocket: Provides a lift to the ball to hit unreachable targets.
♦Nitro: Gain extra distance on your shot.
♦Pause: Stop the ball in mid-air to time shots and hit moving targets or avoid pesky obstacles.
♦Below Zero: Avoid bad lies by bouncing the ball off any terrain, including sand or water.
♦Nudge: Obstacle in the way? Use Nudge to adjust in mid-air or while rolling on the ground.
♦Super Spin: Double the spin on the ball, or backspin onto targets normally unreachable.
♦Sticky: Use this to stop the ball from rolling, or stick to the ground like glue when it makes contact with the terrain.
♦Remote Control: Take control and steer the ball left and right to avoid obstacles, fly through rings, and roll through croquet gates.
♦Anchor: Stop on a dime and drop straight down to the ground. Rotate your camera view in air to spot the target, then drop from the sky and slam down to the ground.