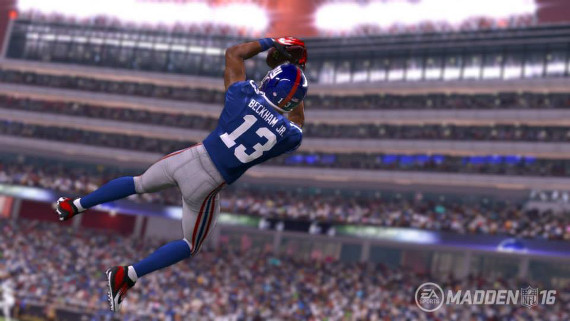 Earlier this week I took a closer look at some gameplay footage of Madden NFL 16, pulling out relevant clips and attempting to identify what the game has added or improved upon and what might still need some work at this stage of development. There were a number of videos captured from E3 however, and certainly there's much more to learn from them – so here's part two which features a breakdown of another original video! 
The first penalty occurs on the opening kickoff, and it's a holding rather than clipping which, while rare, was about all that would be called on returns in Madden's past. Unfortunately if you watch #45 (Henry Hynoski) he seems to set a clean block. If that's a hold, then every block being set on the field is also a hold. When concern is expressed regarding randomness of penalties, to no fault of the user, this would be an example of that.
The user-controlled Giants are attempting to take advantage of the new catching system throughout the video. Here Eli Manning throws a deep lob pass to Odell Beckham Jr. who uses an aggressive catch and beats the corner who was left on an island. He does it without leaving his feet or going to the ground, which has been the case in most other examples. This play is great to see for two big reasons. The first is going deep in that situation would have resulted in underthrown balls in past years of Madden, and probably intercepted, but here it gets over the top. Second is that the corner got burned by one of the best receivers in the league. Defenses will now have to account for those receivers and shade coverages their way.
Jason Pierre-Paul is left unblocked on this play, and instead of rushing the passer it appears he diagnoses a run, but the trapping Zack Martin gets to him and seals the hole for Darren McFadden. This play might have turned out differently had the user-controlled linebacker not followed the left tackle thinking he was a receiver – though it looked like the scheme called for the tackle to block that linebacker anyway.
The user-controlled linebacker initially cheats forward on the play action but quickly drops into coverage, and CPU Tony Romo makes a bad read. McFadden probably should have released instead of standing there and doing nothing after the play fake which could have opened up the middle of the field for that pass.
Yet another example of what looks like a receiver going to the ground without being touched and the play being whistled dead. It appears that way at first, but upon closer examination the receiver may have bumped or pushed-off slightly and that's the contact that ends the play upon hitting the ground. Even if the case it needs to be made clearer to the user why the play has been ruled dead when contact doesn't appear to have been clearly made.
Another lob pass, this one into the back of the end zone, and thankfully it's not completed. I say thankfully because it has seemed as though aggressive catch attempts from users in all the footage from E3 have been converted at an abnormally high rate. This example looks really good with both players going for the ball and just running out of room to make the catch.
The user comes back with an attempt at a fade in the end zone. One defender ends up punching the ball away while another hits Beckham Jr. from the front. So now that's two consecutive aggressive catch attempts that have failed.
It doesn't happen for a third time however. The same throw is made, but this time Beckham is in single coverage, and bodies up the defensive back for position. It's hard to see until the replay, but he ends up holding onto the ball with one hand as they go to the ground.
The footage for this breakdown came from a video captured by QJBeat. Look for a third detailed examination of Madden NFL 16 footage early next week!