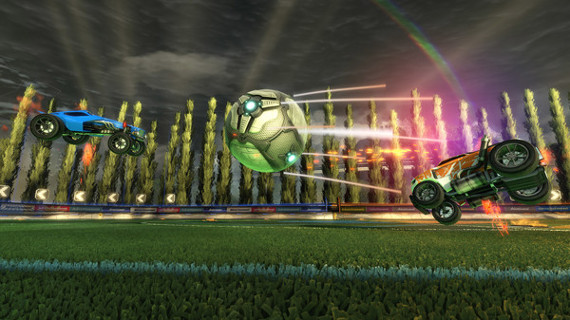 The highly anticipated sports-action hybrid Rocket League is now available to download! The game is FREE for PlayStation Plus subscribers on PlayStation 4, and it's $20 to buy on PC or for those without PS Plus. Download it here for PS4 or purchase here for PC on Steam.
Rocket League includes cross-platform play between PS4 and PC, up to 8-player online, and a single-player Season Mode. **PSN has been down much of the day, and the online servers for the game are down, but it's there now at least!**
Soccer meets driving once again in the long-awaited, physics-based sequel to the beloved arena classic, Supersonic Acrobatic Rocket-Powered Battle-Cars! A futuristic Sports-Action game, Rocket League, equips players with booster-rigged vehicles that can be crashed into balls for incredible goals or epic saves across multiple, highly-detailed arenas. Using an advanced physics system to simulate realistic interactions, Rocket League relies on mass and momentum to give players a complete sense of intuitive control in this unbelievable, high-octane re-imagining of association football.
Physics-driven Gameplay
Select one of nearly a dozen, rocket-equipped vehicles capable of performing impossible aerials, amazing passes, and dramatic goals. Drive on the walls, ceilings, or right through your opponents at intense supersonic speeds!
Total Customization
Explore more than 10 billion possible Battle-Car combinations with unlockable paint types, decals, wheels, rocket boosts, and more.
Gameplay Variety
Test your mettle in 1v1, 2v2, 3v3, and 4v4 match-ups across multiple stadiums, or try Unfair Mode in a "one against many" handicap match.
All-New Season Mode
Create your team and compete against multiple, uniquely-themed football clubs as you drive your way to the play-offs and championship.
Local, Online, and Splitscreen Multiplayer
Play co-op or competitive in any combination of 2-, 3-, or 4-player splitscreen, or take your friends online for intense eight-player action against individuals or other splitscreen players.
Matchmaking for Everyone
Enjoy Ranked, Unranked, or Private matches powered by a proprietary skill-based matchmaking and party system.
PS4/PC Crossplay
Break barriers and enjoy optional cross-platform matchmaking for PlayStation 4 and Steam PC users.
Dedicated Servers
Super-smooth online technology ensures an even better Rocket-Powered Battle-Car experience.
Broadcast-Quality Replay Viewer
Import entire, full-length games and fast forward, rewind, or view the action from anywhere in the arena.
PS4-Exclusive Sweet Tooth
Hit the pitch as the world's most famous ice cream truck from the legendary Twisted Metal™ series!