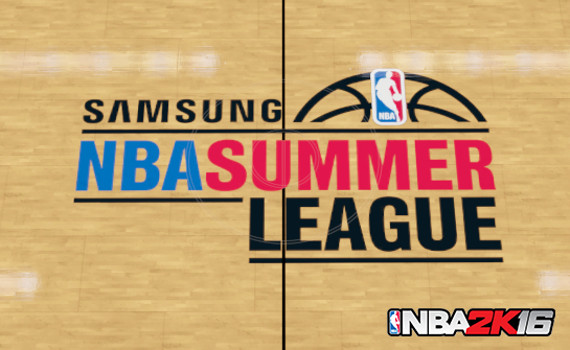 Though 2K Sports hasn't gone into much of what will actually make up the NBA 2K16 product, besides Spike Lee's involvement with writing and directing MyCareer mode and the soundtrack news that went out yesterday, one piece of game-related information was made public today. NBA 2K16 will include the Summer League.
The NBA Summer League was last seen in NBA 2K11, where poor performance would lead to your MyPlayer heading to the D-League to begin their career rather than the NBA. Whether the Summer League will have a place only in MyCareer Mode, be used within MyGM Mode, or be implemented in both remains unspecified.
The Summer League has become more of an event over recent years, with heralded rookies making their first appearances for the teams that drafted them only a week earlier. Games are only 40 minutes long and feature the rookies, second-year players, and unsigned free agents. They're played through three different "leagues" in Orlando, Salt Lake City, and Las Vegas.
Samsung sponsors the Vegas league, the largest of the three involving 24 teams, which had attendance and viewership records shattered last year. That image then could indicate Vegas will be the site for the Summer League in NBA 2K16.