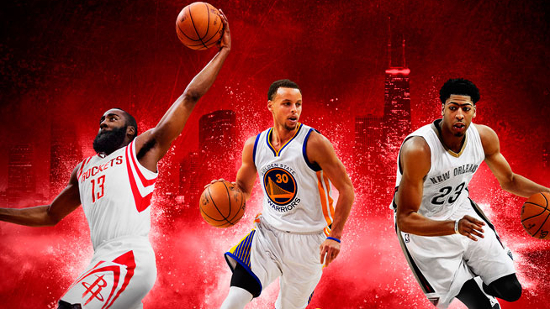 Earlier this week we learned, among the other leaked features for NBA 2K16, that college ball will be playing some role in the new MyCareer story mode. Announcing where you'll play your college ball at and declaring for the NBA Draft are two of the big moments early on in the career of "Frequency Vibrations".
Obviously the college aspect is not going to be a fully blown out College Hoops 2K experience. There aren't going to be real players or representations based on them, there aren't going to be all the schools, things like authentic arenas, or the NCAA's involvement in any manner of fashion. But could there be some actual licensed universities involved, and will it be something that is playable within the mode? It's beginning to look like that may be the case. 
A sleuth over on the Operation Sports forums discovered that 2K Sports currently has the license for 11 schools for use in video games through the Collegiate Licensing Company. Those are Arizona, Arizona State, Georgetown, Kansas, Louisville, Michigan, Texas, UCLA, UConn, Villanova, and Wisconsin. There may be at least one more to the group however.
You'll notice on the various covers for NBA 2K16 that the players are featured in different images, one of which includes them in their college gear. James Harden and Arizona State is one, matching up with their licensed status. Stephen Curry (Davidson) and Anthony Davis (Kentucky) are the two others.
It's possible those two schools will be included as well, though Kentucky is questionable as Davis isn't in uniform, and the Kentucky logo may have been wiped from the shirt he's wearing along with the NCAA National Champions text. Here's the original image to compare. There's just no way to confirm them for sure at this point in time, as both Davidson and Kentucky do their own licensing, as opposed to the many others that are handled by the CLC.

Interestingly you'll see on the cover of the 2K16 special edition, which features Michael Jordan on the cover, that "North Carolina" has been removed from the jersey in his image. North Carolina is not one of the teams that has been licensed by 2K according to the CLC's client website.
So assuming these institutions have in fact had their licenses secured for the purposes of the MyCareer Mode in NBA 2K16, which the evidence seems to support, how might they be utilized in the game?
A good guess would be in a tournament structure, in which you'd only have to go up against the other licensed teams, rather than having to ever take on fake teams. Going all the way to win the title would require only six games, so 10+ teams easily covers that. It could be similar to how you'd start in the high school playoffs with the NCAA Football franchise, where everything was generic with the exception of the state title game that was played in a college stadium, but here you'd at least have some real team branding with their logos and uniforms.
Regardless of how they're used, it's exciting to see any semblance of college basketball making its way back into sports gaming. The return of full-fledged college football or basketball games are still a few years away from being realistically possible, so this may be the closest thing to a college experience until that time finally comes.