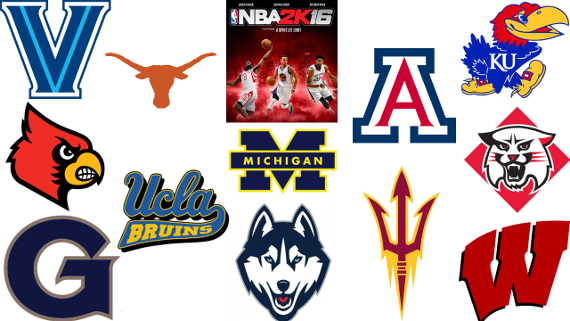 Last week it was discovered, through a leaked achievements list, that MyCareer Mode in NBA 2K16 will include some form of college implementation in the early stages of the player's career path. That news, combined with there being at least 11 schools that have been licensed by 2K Sports through the Collegiate Licensing Company for use in video games, makes it appear likely that some actual universities are going to appear in NBA 2K16.
It would be the first time in years that any representation of college would be featured in a video game. In 2013 the NCAA Football franchise was cancelled and the last college basketball game was from EA Sports in 2009. Poor sales of the basketball games ended their run, while lawsuits around likenesses were to blame for football being shut down.
In a video produced for Hit The Pass, I'm joined by Rich Grisham and Owen Good to discuss the the way colleges could enhance the NBA 2K product, the justification for the company adding them, and what it could mean for the landscape of college video games as a whole.