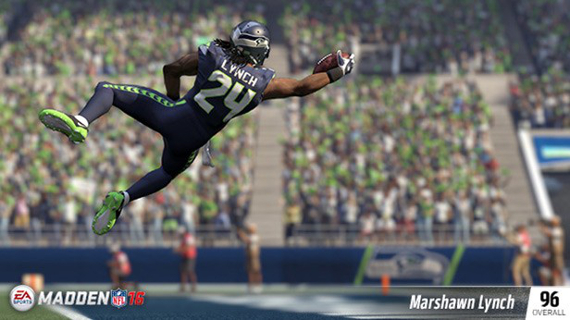 After revealing the top rated rookies yesterday, EA Sports has turned attention to the returning players of the league in what appears to be the start of 22 straight (week) days in which ratings will be rolled out for Madden NFL 16. Today the focus is on the top rated running backs.
Leading the way is Marshawn Lynch with an Overall Rating of 96. Lynch finished Madden NFL 15 as the highest rated back so it should be no surprise that he leads the way to start the new season. In fact, the top five from the position are the same players falling in essentially the same order to how Madden NFL 15 finished out with its last roster update. 
1) Marshawn Lynch – 96 Overall
2) Adrian Peterson – 95 Overall
3a) DeMarco Murray – 94 Overall
3b) Jamaal Charles – 94 Overall
3c) Le'Veon Bell – 94 Overall
All those Overalls are lower than last season. Lynch finished 97, Peterson 96, Murray 96, Charles 95, and Bell 95. What's most notable about the ratings categories that contribute to the Overall is that Speed seems to have been decreased across the board.
Compared to the final Madden 15 ratings Lynch (-5 to 85), Peterson (-6 to 90), Murray (-6 to 89), Charles (-5 to 92), and Bell (-2 to 88) have all taken a huge hit in that area. As many have pointed out though, if a universal lowering of Speed is being put into place for Madden 16, that wasn't reflected in the rookies. Several of the top rookies were in the high 80s-low 90s including QB Marcus Mariotta who was given 88 Speed and RB Melvin Gordon 91 Speed.