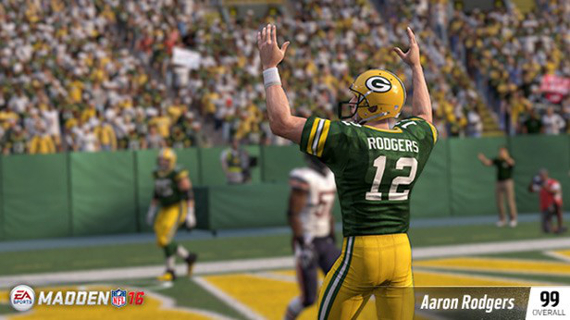 Next in line with the ratings reveals for Madden NFL 16 are the quarterbacks. Unlike the running backs yesterday, it's not the same top five that ended Madden NFL 15, and even the order of how they stack up has changed.
1) Aaron Rodgers – 99 Overall
2) Tom Brady – 97 Overall
3a) Drew Brees – 95 Overall
3b) Ben Roethlisberger – 95 Overall
5) Andrew Luck – 94 Overall
Tom Brady closed out Madden NFL 15 rated 99. Could perception around "deflategate" be the reason for his drop here? He started last year rated fairly low, maybe due to anticipation that age would be catching up with him, but he rose all the way to the top by the end of the season. Meanwhile Aaron Rodgers, who finished 98, has been bumped up to 99 to start the 2015 season.
Moving out of the top five is Tony Romo who had an excellent season and finished up 95. It's likely the loss of DeMarco Murray is being factored in here. In his place is Andrew Luck, who has risen from the 91 he closed out Madden 15 with – an explanation for that is tougher to find.
Peyton Manning finished as the 6th highest rated QB in Madden 15 at 93 Overall after struggling mightily late last season. Based on Luck jumping ahead, he'll probably be 7th in Madden 16, with Russell Wilson and Matt Ryan right on his tail.
Previously Revealed
♦Running Backs
♦Rookies